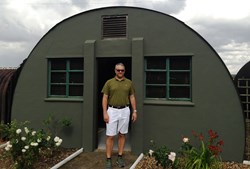 Understanding history through the close examination of my grandfather's experiences – rather than a textbook – interjects real-life perspective into the curriculum and helps students arrive at their own conclusions.
Houston, TX (PRWEB) November 11, 2013
Last July, with a Fund for Teachers grant, Dan Lundak set out to retrace his grandfather's D-Day experience. The American History teacher planned to use his research to help eighth graders at Chicago's Sauganash Elementary School personally connect with World War II. The pilgrimage grew more personal than expected, however, upon discovering his grandfather's photograph hanging in a wartime museum.
"When applying for the Fund for Teachers grant, I researched my grandfather's military service and his path from Nebraska to Normandy," said Dan. "On D-Day, he flew the Boeing B-17 with the USAF 94th squadron from the RAF base in Bury St. Edmonds, England -- so that was my first stop. Townspeople converted his squadron's control tower into a museum, which was dark and locked when I arrived. A museum volunteer repairing the roof saw me walking away and offered to let me in. As I made my way around the artifacts, I suddenly came face-to-face with a framed, yellowed photograph of Lt. Col. E.E. Lundak – my grandfather."
The volunteer explained that displays included "random photos of pilots" found when creating the museum. He could offer no definitive explanation why the photo of Dan's grandfather, never seen by his family, hung there to greet Dan 70 years after the war.
Lt. Col. Lundak flew 47 missions while stationed at Bury St. Edmonds. He crash landed twice (once, the only surviving crew member) and again escaped death after trading places with a co-pilot subsequently shot by enemy fire. The night before D-Day, Lundak bombed the beaches of Normandy; the day after the invasion, he delivered gasoline to Allied forces and returned US casualties to England. Lundak remained in the Air Force for years before becoming a US diplomat in China and the US liaison with President Chiang Kai-shek. Upon retirement, he returned to Nebraska to teach school, serve as a superintendent and, eventually, Dean of Admissions for the University of Nebraska.
Inspired by the discovery, Dan continued his WWII odyssey at London's St. Paul's Cathedral and American Memorial Chapel, seeing the honor roll of more than 28,000 Americans who died in WWII while stationed in England. He also followed the London Blitz Bomb Site Interactive Map to visit areas affected by bombings and, afterwards, the Imperial War Museum. Before taking a ferry across the English Channel, Dan stopped at General Eisenhower's headquarters in Porstmouth to research the planning and preparation of Operation Overlord, the final meeting that resulted in the D-Day command, "Let's go!"
Bayeux served as home base for Lundak in France, where Dan toured Omaha and Utah beaches, visited the D-Day museum and experienced the flag lowering ceremony at the American Cemetery. His ten-day fellowship concluded in Paris, where he followed the movement of General Patton's Third Army and its role in the Liberation of Paris.
Armed with fellowship experiences and research, Dan now encourages his students to "dive deeper" in their study of World War II – a requirement of the new Common Core State Standards. Lt. Col. Lundak serves as a case study for students' exploration of the questions, "At what point do people get involved with the affairs of others?" and "What makes someone brave?" Dan believes these questions are particularly relevant as students prepare to face diverse socio-economics, cultures and traditions represented in a large public high school. Students also write letters of appreciation to veterans, which Dan delivers to the local American Legion post.
"Retracing my grandfather's service during the D-Day invasion gave me personal insight into what each person has to ask themselves in a time a crisis; the experience also gives my students a personal story they can relate to when facing similar decisions about personal sacrifice," said Dan. "Understanding history through the close examination of my grandfather's service – rather than a textbook – interjects real-life perspective into the curriculum and helps students arrive at their own conclusions."
Teachers interested in designing their own Fund for Teachers fellowship may apply online at the nonprofit's web site. Applicants, eligible for up to $5,000 as an individual and $10,000 as a team, have until January 30, 2014, to sumbit their proposals. Recipients are notified in April.
Fund for Teachers supports preK-12 teachers' personal and professional growth as they identify and pursue opportunities around the world that impact their practice, students and school communities. Since 2001, more than 5,500 teachers have pursued new knowledge and skills on every continent with $20 million in Fund for Teachers grants.