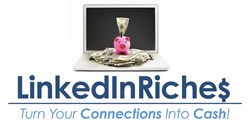 Minneapolis, MN (PRWEB) November 07, 2013
LinkedIn Lead Generation Expert John Nemo announced today he is holding a webinar on Tuesday, Nov. 12, that will reveal the exact method he used to generate more than $135,000 in revenue on LinkedIn in just 90 days.
"It's been an amazing ride," said Nemo, creator of LinkedIn Riches, an online training program that helps businesses, brands and individuals leverage LinkedIn to generate sales leads, add clients and increase revenue. "I'd been on LinkedIn since the mid-2000s, and like most people I was just using as an online resume or job search type tool. What I realized, however, was that if you completely filled the model upside down, you could do an incredible amount of business in a short amount of time as a result."
When he launched his own marketing agency, Nemo Media Group, in late 2012, Nemo realized he had to come up with a creative way to attract clients and generate sales leads.
"I didn't have a ton of money to spend on traditional advertising, and I hate cold calls," he said. "They annoy me to no end, so why would I want to do that to my potential clients? Instead, I realized that I was sitting on a goldmine - LinkedIn."
The Nov. 12th webinar will reveal the specific method Nemo used to turn LinkedIn into what he called "a lead generation machine."
Topics covered in the webinar include:

How to Instantly Rank #1 on LinkedIn in ANY Niche.
How to Avoid the Fatal Marketing Mistake 99% of people continue to make on LinkedIn.
How to Harness the Power of LinkedIn Group for Lead Generation.
How to Instantly Locate and Engage "Ready-to-Buy" Prospects.
"I've been working with LinkedIn for a few years and sat through several presentations on how to use it for business," said Ginger Zemla, CEO of Innovative Principle Strategies LLC, who recently attended one of Nemo's webinars. "I have never sat through a LinkedIn presentation like John Nemo's that had so much value in such a short amount of time! John is truly an expert. People would be silly to miss out on what he has to teach them!"
ABOUT JOHN NEMO
John Nemo is a former Associated Press Reporter, Talk Radio host and Award-Winning PR Professional with more than 15 years of experience. He is the CEO of Nemo Media Group, a Minneapolis-based Marketing and Public Relations Agency. He is also the creator of LinkedIn Riches, an online course that helps businesses, brands and individuals leverage LinkedIn for lead generation and increased revenue.