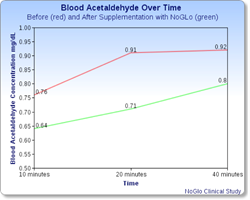 "The genetic inheritance of the inability to break down alcohol is currently a serious unmet need." -Dr. Ken Fujioka, MD
(PRWEB) November 12, 2013
The double blinded, internal-placebo controlled, 20-person study, conducted in Los Angeles, California, is the first ever to demonstrate efficacy of a commercially available product in lowering blood acetaldehyde and other symptoms in those with Alcohol Flush Reaction (AFR). In the study, NoGlo reduced the physical symptoms of dizziness, nausea, lightheadedness, overheating, and general physical discomfort, as self-reported by the subjects. Intensity of facial flushing, the most noticeable symptom, was reduced after 10 and 20 minutes following alcohol consumption.
The main clinical objective of the study was to reduce blood acetaldehyde buildup, the cause of the damage and symptoms of AFR. This was significantly reduced over time. The graph below demonstrates this reduction. The red line indicates these levels before supplementing with NoGlo and the green line indicates the acetaldehyde levels after supplementation with NoGlo after drinking the same amount of alcohol. Subjects were given a set amount of alcohol based on their body weight. Blood acetaldehyde was reduced by 22% after 20 minutes from alcohol consumption.
"The genetic inheritance of the inability to break down alcohol is currently a serious unmet need. Although the current trial is a pilot study the results are very encouraging," commented Dr. Ken Fujioka, MD, Director of Nutrition and Metabolic Research at Scripps Clinic in San Diego, CA.
"We are very excited about these results. They legitimize our research-based product and the science we have put behind it," says Spencer Gordon, CEO of NoGlo. "There are currently no other options to help people deal with this problem and the adverse effects of its damage."
Made only from vitamins, amino acids, and anti-oxidants proven to be safe, the NoGlo product is designed specifically for people with AFR.
About Alcohol Flush Reaction:
Alcohol Flush Reaction is a series of negative physical symptoms certain individuals experience when drinking alcohol. The most obvious symptom is intense redness of the face and skin. Present in approximately 40% of individuals of East Asian descent, the problem is caused by a genetic mutation and commonly referred to as "Asian Flush" or "Asian Glow." While the immediate symptoms are very unpleasant, those with the problem are at a significantly increased risk of alcohol-associated diseases like liver cirrhosis, gastric and esophageal cancers, and even Alzheimer's Disease, yet research shows those with the mutation do not drink any less on average. The symptoms and damage are caused by huge accumulations of the alcohol metabolite acetaldehyde, which individuals with the AFR cannot properly break down.
About NoGlo LLC:
NoGlo LLC is a privately held company with the mission of improving the health and lives of those with Alcohol Flush Reaction and others who are exposed to large levels of acetaldehyde. Based in San Francisco, CA, NoGlo was founded in 2012 to research commercially available solutions to this problem. The product website can be found at http://www.GoNoGlo.com.