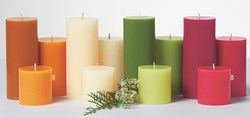 PartyLite is thrilled that the National Candle Association declared this National Candle Month just as we are entering everyone's favorite season for decorating, entertaining and gift‐giving.
Plymouth, MA (PRWEB) November 07, 2013
November is National Candle Month, and PartyLite, the world's number one party–plan candle company, is delighted to join the celebration.
"We celebrate candles every month at PartyLite," says Rob Goergen, President of PartyLite Worldwide, "But as members of the National Candle Association (NCA), we're thrilled that the NCA declared this National Candle Month just as we are entering everyone's favorite season for decorating, entertaining and gift–giving. Their slogan is 'Light a Candle Tonight!' and we couldn't agree more."
Goergen notes that PartyLite candles are meticulously crafted in the United States and United Kingdom using premium ingredients from around the world. All are stringently tested for exceptional performance and quality. Additionally, PartyLite works with the world's finest fragrance houses to develop its candle scents.
Available in 21 countries, PartyLite candles are fast-becoming the candles of choice in homes around the globe. "You know, like great food, art and music, candles are a beloved part of nearly every culture, and the glow of candlelight makes any gathering a celebration."
Goergen says that PartyLite candles and expertise will reach consumers in several special ways during National Candle Month:
Facebook Giveaways – PartyLite is giving away some of its best–selling candles – even a new candle form – this month. For a chance to receive free PartyLite candles, "Like" PartyLite on Facebook and watch for giveaways.
Facebook LIVE Chat with PartyLite Candle Experts – Want to know how to get the most efficient burn from your candles? Want to know how to clean a candle? Bring your candle questions to a LIVE Facebook chat with PartyLite candle experts. Date and time will be announced on the PartyLite Facebook page.
Special Offers for Candle Lovers – There are all kinds of special offers on candles, candle holders and accessories and other fragrant gift ideas at great savings! Click to check them out.
Join PartyLite Preferred – PartyLite's celebrated customer loyalty program, PartyLite Preferred, is absolutely free to join; and candle lovers can start earning 20% back on all purchases to use toward future online purchases of full–priced candles and candle holders. "It's like creating your own sale on the candles you want, anytime you want them!" said Goergen. There also are exclusive offers for PartyLite Preferred members.
Finally, Goergen says that people who sell PartyLite all over the United States–called PartyLite Consultants–will be personally giving away free tealights in honor of National Candle Month. If candles on your holiday table sound like a twinkling must‐have, go to PartyLite.com to see the entire selection of PartyLite fragranced and unscented candles.
About PartyLite
PartyLite is the world's #1 party plan company selling candles, candle holders, flameless fragrance and wax warmers, as well as holiday and home décor available in 21 countries through nearly 45,000 independent PartyLite business entrepreneurs. PartyLite ranks #31 in the Direct Selling News "Global 100 top revenue-generating direct selling companies." Based in Plymouth, Mass., PartyLite is a member of the Direct Selling Association. In 2013, PartyLite is celebrating 40 years as the global leader in its category and 23 years as a member of the Blyth family of companies (NYSE:BTH). For more information, please visit http://www.PartyLite.com.