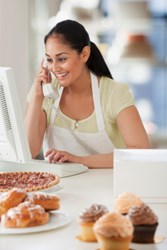 The order processing is extremely easy to use, both for our employees and for our customers.
Carlsbad, CA (PRWEB) November 19, 2013
Nexternal, a brand-focused eCommerce platform, is excited to announce that Royers Round Top Cafe, a Texas-based Country Bistro, and Royers Pie Haven, known for their world famous pies, have recently joined a growing number of gourmet food companies that are using Nexternal's cloud-based eCommerce Software to "cook up" sales. The announcement aligns with the grand opening of their new Royers Pie Haven shop in Austin, Texas. Royers Round Top Café and Royers Pie Haven join world renowned bakery brands such as Magnolia Bakery based in New York, New York; Boudin Bakery based in San Francisco, California; Kings' Hawaiian Bakery in Torrance, California; Old Country Bakery in Lenexa, Kansas; and The Solvang Bakery in Solvang, California.
When it comes to shipping perishable products such as baked goods, shipping can be a challenge due to the risk of spoiling during transit. By utilizing Nexternal's "smart shipping" configuration tools, these gourmet food brands have been able to customize the shipping methods available to customers based on the contents of the shoppers' carts and shipping addresses. For example, if a customer in California places an order for a dozen cupcakes from Magnolia Bakery in New York City, only overnight shipping methods are displayed since their order contains a product that can only be shipped via methods designated as "expedited".
Since baked goods are commonly given as gifts for special occasions such as holidays and birthdays, giving customers the ability to choose a preferred delivery date has been ideal for famous bakeries like Magnolia and Boudin. Utilizing time-in-transit data from shipping carriers, Nexternal notifies these merchants when an order needs to be shipped for on-time arrival. Their customers certainly appreciate the ability to place one order and ship items to multiple recipients, saving them time and effort. Also, the ability to specify personalized gift messages and include gift wrapping for each recipient's package is another benefit their customers have enjoyed.
Since these gourmet food brands have physical retail locations, offering an in-store pickup option has been critical, especially for customers who live close by and don't wish to pay shipping fees. Utilizing Nexternal's In-Store Pickup option, customers are able to order cakes online and pick them up at the bakery. Nexternal's powerful product presentation tools like image galleries, product image zoom, and product reviews have really helped to increase sales by enticing customers to purchase.
Online shopping should be quick, easy, and intuitive, which is why so many gourmet food companies have chosen Nexternal as their eCommerce platform. The friendly and intuitive shopping experience provided by Nexternal's always-on-screen shopping cart, allows customers to enter coupons, determine shipping charges and tax or edit cart contents, all without leaving the shopping environment. The always-on-screen shopping cart has significantly helped to reduce shopping cart abandonment and increase order size, enabling these bakeries to sell more online than ever before.
Utilizing Nexternal's web-based "Order Management System", Royers, Magnolia, Boudin, King's Hawaiian, The Solvang, and Old Country Bakeries are able to manage products, capture orders, process credit cards, create shipping labels, schedule email campaigns, and communicate with customers - all in one consolidated platform. Magnolia Bakery further leverages Nexternal's capabilities by capturing phone orders in the system as well. "The order processing is extremely easy to use, both for our employees and for our customers. I'm always impressed by how easy it is to add new items and make changes to our online store. The functionality is robust and intuitive. My Account Manager is kind, sincere, professional, and takes the time to make sure that I fully understand my options from every angle" says Misty Martin of Magnolia Bakery. "At Nexternal we enjoy solving problems. So helping these world renowned bakery brands address their unique issues has been a real treat" says Doreen Davis, Senior Account Manager at Nexternal.
About Nexternal
Nexternal provides its enterprise class eCommerce platform to brands and merchants of all sizes. Unlike template-based systems, the Nexternal platform maintains the merchant's branding, navigation and website design throughout the entire shopping experience. The powerful, easy-to-use platform is search engine optimized, mobile, integrated with social networks, and includes a powerful XML Toolset. To learn more, visit http://www.nexternal.com.
About Royers Round Top Café and Royers Pie Haven
Located in the smallest city in Texas with a population of 90, Royers Round Top Café is a Country Bistro Restaurant known for its gourmet comfort food. Royers Pie Haven is bakery, known for its world famous pies, located in both Round Top and Austin, Texas. For more information, visit http://www.RoyersRoundTopCafe.com and http://www.RoyersPieHaven.com.
About Boudin Bakery
Boudin Bakery is headquartered in San Francisco, California, and is world-famous for The Original San Francisco Sourdough™. For more information, visit http://www.boudinbakery.com.
About Kings' Hawaiian Bakery
King's Hawaiian is a Torrance, California-based, family-owned, and operated bakery, known for its famous Hawaiian bread. For more information, visit http://www.kingshawaiian.com.
About Magnolia Bakery
Magnolia Bakery is a NYC-based classic American bakery, cherished for its selection of old-fashioned, freshly baked desserts and vintage décor. For more information, visit http://www.magnoliabakery.com.
About Old Country Bakery
Old Country Bakery based in Lenexa, Kansas, produces Povitica, a traditional Croatian sweet gourmet bread. For more information, visit http://www.oldcountrybakery.com.
About The Solvang Bakery
The Solvang Bakery, based in Solvang, California, is known for its Almond Butterrings, hand-iced short-dough cookies, and personalized gingerbread houses. For more information, visit http://www.solvangbakery.com.