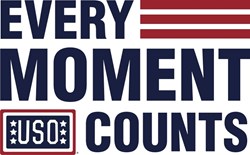 "Our troops and their families work tirelessly to protect the freedoms we enjoy daily. We look forward to bringing them more special moments for decades to come.- Brigadier General (Ret.) John Pray, USO Executive Vice President and Chief of Staff
Arlington, VA (PRWEB) November 07, 2013
From the front porch to the front lines, every day our troops and their families make incredible personal sacrifices in their service to our country. Too often they miss out on family dinners and date nights, births and bedtime stories, the holidays and school dances. Beginning Veterans Day weekend, the USO is launching Every Moment Counts, a national campaign asking Americans to come together to show their gratitude by committing to help create and provide these real, everyday moments for our troops and their families. The campaign will kick off with a series of events in New York City, Las Vegas, Phoenix, Tampa Bay and Washington D.C.
A single moment is all it takes to make a difference. This Veterans Day weekend individuals can visit USOmoments.org and "Take a Moment" to thank our troops and learn more about the challenges they and their families face, or "Give a Moment" by donating to the USO to help provide the resources that support troops and their families wherever they may be serving around the world. The smallest gestures – from mowing the lawn of a wounded warrior, babysitting for a military mom, or posting a photo of your loved one in uniform – all help create special everyday moments. All Americans are encouraged to share and create moments for our troops and their families in their own communities by using #USOmoments on Facebook or Twitter.
Since our founding over 70 years, the USO has been working to provide these everyday moments and ensure that help goes to those who need it most, like Kathleen "Kat" Causey, USO volunteer and wife of Sergeant First Class Aaron Causey, who was injured while disarming an improvised explosive device in 2011. During her husband's transfer and rehabilitation at Walter Reed National Military Medical Center, Kat experienced firsthand the supportive services of the USO she so often volunteered for. "I think the USO is one of the most wholly good organizations I have ever come in contact with. At every step of our journey, they were there to help," she said. "My USO experience is probably one of the few that is full circle, in that I have given aid and received it."
In the past year alone, donations from the American public and our corporate sponsors have allowed the USO to provide over 9 million moments to support our troops and their families through: Operation Phone Home®, giving military families a chance to connect from afar; USO and Hire Heroes USA Transition Workshops, providing career transition prep to offer troops the opportunity to return home to fulfilling jobs; Operation That's My Dress, giving military teens a moment to remember; and Special Delivery, offering baby showers for military moms-to-be around the world.
"Our troops and their families work tirelessly to protect the freedoms we enjoy daily," says Brigadier General (Ret.) John Pray, USO Executive Vice President and Chief of Staff. "For over seven decades, the USO has been there to thank our troops and their families on behalf of all Americans for what this amazing group does for each one of us. We look forward to bringing them more special moments for decades to come."
For more information on Every Moment Counts, please visit USOmoments.org or join the conversation on Facebook or Twitter using #USOMoments. To obtain USO photos, video and logo please visit: uso.box.com/EMC.
About the USO
The USO (United Service Organizations) lifts the spirits of America's troops and their families millions of times each year at hundreds of places worldwide. We provide a touch of home through centers at airports and military bases, top quality entertainment and innovative programs and services. We also provide critical support to those who need us most, including forward-deployed troops and their families, wounded warriors and their families and the families of the fallen.
The USO is a private, non-profit organization, not a government agency. We rely on the generosity of our volunteers and donors. In addition to individual donors and other corporate sponsors, the USO is supported by Worldwide Strategic Partners: American Airlines, AT&T Inc., BAE Systems, The Boeing Company, Clear Channel Communications, The Coca-Cola Company, Lockheed Martin, Microsoft Corporation, Northrop Grumman Corporation, Procter & Gamble and TriWest Healthcare Alliance. We are also supported through the United Way and Combined Federal Campaign (CFC-11381). To join us in this patriotic mission and to learn more about the USO, please visit http://www.uso.org.