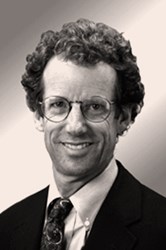 "Boots' passion for life knows no boundaries," said Holland & Hart managing partner, Tom O'Donnell. "He brings a contagious enthusiasm to all he does, including the practice of law and service to his clients."
Denver, Colorado (PRWEB) November 07, 2013
Holland & Hart LLP is proud to announce that it has bestowed the third annual Stephen H. Hart Award to Aspen partner Arthur "Boots" Ferguson.
The award, established in 2011, is given annually to a Holland & Hart partner who, over the course of his or her career, has exemplified the firm's values and personified the spirit that is the fabric of the partnership and that of its founding partner, Stephen H. Hart. The key qualities include fundamental optimism, client service, fierce loyalty, a responsibility to give back to the community and profession, unstoppable energy and moral and physical courage.
"Boots' passion for life knows no boundaries," said Holland & Hart managing partner, Tom O'Donnell. "He brings a contagious enthusiasm to all he does, including the practice of law and service to his clients."
With more than 35 years experience working in the areas of water law and resort and recreation development, Ferguson provides his clients seasoned legal counsel on virtually every type of issue associated with developing land for planned unit developments and recreational and resort projects. His recreational focus has been primarily on ski resort services and development and associated golf properties and resorts.
An avid mountaineer, he is a member of the Board of Directors for the Tenth Mountain Division Hut Association and the Alfred F. Braun Hut System, as well as a former member of the Board of Directors for the American Mountain Guides Association and is the past chairman of the Association of Ski Defense Attorneys.
About Holland & Hart
Holland & Hart LLP delivers integrated legal solutions to regional, national and international clients of all sizes.
Since its inception in 1947, Holland & Hart's more than 450 lawyers have consistently been recognized by leading national and international peer and industry review organizations for innovation and dedication to the practice of law.
For more information, visit http://www.hollandhart.com.