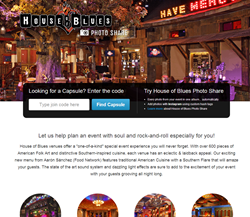 Easily add photos to a group album via their mobile devices and watch as they display instantly on a live photo wall.
Los Angeles, CA (PRWEB) November 07, 2013
A unique, first of its kind, program called "House of Blues Photo Share Powered By Capsule" was announced by the companies featuring an app that will enable special event guests at venues across the U.S. to take photos at their specific events and automatically upload them to a shared photo page.
Simultaneously, video screens in the venues will display the photos in real time as they are being taken by the various guests.
All House of Blues locations will offer Photo Share, which enables special event guests to easily add photos to a group album via their mobile devices and watch as they display instantly on a live photo wall. After the event, guests can access the House of Blues photo album via a special web page to download images, interact with other guests, and comment and share images to their own social networks.
"We're excited to add Capsule's industry leading apps and photo-sharing technology to our events," said Carl Schloessman, EVP of Sales and Marketing House of Blues Entertainment, a Live Nation division. "We create an extraordinary event experience, providing seamless execution for special events with creative flair, production expertise, and vendor relationships. Now with photo-sharing integration through Capsule Media, the offering is even stronger."
Capsule CEO & Co-founder, Cyrus Farudi said, "We are excited to be aligning with the top name in events and looking forward to powering an interactive and engaging experience for event attendees."
About House of Blues Entertainment
With 38 owned/operated and affiliated clubs and theaters, The House of Blues Entertainment portfolio, a division of Live Nation, is wide-ranging including the legendary Fillmores and the intimate House of Blues clubs throughout the United States. House of Blues Entertainment is the country's pre-eminent live music venue collection featuring state-of-the-art sound and lighting technology in one-of-a-kind custom designed environments aimed to bring fans and artists together in unparalleled musical environments. For more information, visit trycapsule.com/hob or houseofblues.com. Follow House of Blues on Twitter @House of Blues.
About Capsule
Capsule (http://www.trycapsule.com) is the easiest way to capture every photo taken at an event. CapsuleCam, the mobile app for iPhone and Android, lets guests instantly add photos to a shared album. Capsule members can interact, comment, order prints, download high-resolution copies and share to social networks directly from the album. For more information, visit tryCapsule.com or find us on Facebook (facebook.com/tryCapsule), Pinterest (pinterest.com/tryCapsule) or Twitter (twitter.com/tryCapsule).