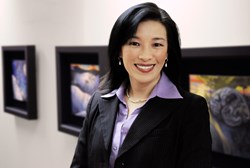 Los Angeles, CA (PRWEB) November 08, 2013
Melasma is a very difficult and tricky condition to resolve. Generally speaking, there are two types of Melasma – Stable and Unstable. A Stable Melasma is typically a result of a singular incident or trauma that stimulated an over production of melanin in the affected skin of the face. The prime example is the hormonal onset of Melasma during pregnancy, known as the "mask of pregnancy". Typically, a stable Melasma is exactly that, "stable". It doesn't change much regardless of sun exposure. An Unstable Melasma is usually associated with an underlying systemic physiological condition that, for unknown reasons, has caused hyper-pigmentation on the face. Unstable Melasma characteristically "flare up" with little aggravation. Even a few minutes in the sun or even the heat from a sauna can flare it up. Stable Melasmas are fairly straight forward to treat, and we have great success treating them. Over 90% of our patients have been happy with the results of their treatments, with no re-occurrence for many years. However, Unstable Melasmas are difficult and tricky. Because of the hidden underlying systemic causes, they often resist treatment, or come back, either partially or completely a few weeks or months after treatment. Even in the most successful cases, our patients with Unstable Melasmas are educated to understand that they may have to "chase" this condition for the rest of their lives, or until the hidden underlying cause resolves.
In every case, no two Melasmas are the same, each requiring individualized assessments and a customized treatment protocol. In many cases, in order to "consult the patient's physiology" we will perform a number of small test treatments on a given patient in order to establish which protocol their skin responds to best. We do not charge for these test treatments.
Lastly, in cases of an unstable Melasma that is resisting treatments, we often "go back to the drawing board", administer additional tests with a variety of technologies and protocols, in order to get the skin "back on track". We also do not charge for these treatments.
We have over 25 lasers, a number of which can be effectively used for pigmented skin. Given that we specialize in using lasers in combination, there are a huge number of protocols that can be employed to advance progressively better results. We also integrate other holistic modalities with our laser protocols, such as Physiological Regulating Medicine, Hyperbaric Oxygen Therapy, pharmaceutical and natural lotions, and IV nutritional therapy.
Please note, that with ALL medical technologies, the magic of producing satisfying results is not inherent in the technology itself, but in how it's used; in the insight of the practitioner, and the customization of the protocol according to the particular needs of the person that is being treated.
Bottom line, when a patient's unstable Melasma is not resolving as we all hoped, we go the extra mile - at our own cost - to do whatever we can to get better results. We hope that our unstable Melasma patients will be patient with their own skin and with us, as we search for the best customized solution to their individual condition. It truly matters to us.
We understand and embrace the frustration that any patient might have with their Melasma. We hope that anyone suffering from Melasma who is reading this, might be willing to give his/her skin and our practice the necessary time to figure out the best course of treatment for his/her particular condition.