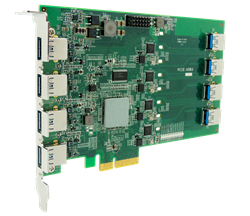 Industrial-Grade USB 3.0 Card Designed for USB3 Vision Applications.
Taipei, Taiwan (PRWEB) December 10, 2013
Neousys Technology, who designs and manufactures rugged embedded system for machine vision application, has launched two new PCIe USB 3.0 Host Adaptor Cards. PCIe-USB380 and PCIe-USB340 are eight and four port cards designed to work in industrial PCs such as Neousys' embedded vision platform. While most USB cards implement multiple ports with a single USB controller that could cause a significant performance decrease in multi-port operation. PCIe-380 has four independent NEC/Renesas uPD720202 USB 3.0 host controllers and x4 PCI Express Gen2 interface, which adds up to 8 independent USB 3.0 ports (4 external, 4 internal) to any PCIe x4-enabled computer system, with full bandwidth support (up to 5Gbps) per port when 4 ports run simultaneously.
In addition, PCIe-USB380/340 features on-board regulated 5VDC power supply with unique design of user configurable 900mA/1500mA current limit to supply stand 5VDC to external USB devices. It also supports software programmable per-port power on/off control for fault recovery operations.
USB 3.0 has become an industrial standard for Vision Camera in machine vision applications. Combining high bandwidth, industrial-grade power design and reliable cable connection, PCIe-USB380/340 brings great convenience to interface USB 3.0 devices for versatile operating systems, such as Windows XP, 7, 8 and Linux.
Key features:
‧ x4 PCI Express® Gen2 interface to deliver 2GB/s total bandwidth
‧ 8-port/4-port by 4x NEC/Renesas _PD720202 Host Controllers
‧ On-board 5VDC regulated power supply, no external power needed
‧ User-configurable 900mA and 1500mA current limit
‧ Software-programmable per-port power on/o_ control
‧ Supports cable-lock mechanism for reliable cable connection
Suggested applications include but not limited to:
· Surveillance, USB cameras for remote monitoring
· Machine Vision & AOI
· Industrial automation applications such as Wafer Inspection
· Production quality control
For more information or to purchase these PCIE cards, please visit http://www.neousys-tech.com or contact sales representative via sales(at)neousys-tech(dot)com.
Neousys Technology, established in 2010, designs and manufactures rugged embedded platforms for mission critical applications. With sound experiences in industrial applications and high quality R&D team, its goal to provide highly integrated application-focus platform with embedded computing and application-specific hardware to the industries.