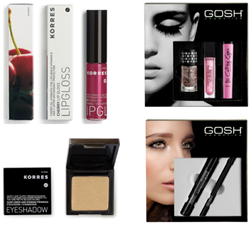 We want to put the fun back into Christmas shopping and help you enjoy spoiling your loved ones in style. - Sharon Dickinson
Johannesburg (PRWEB) November 07, 2013
Nothing puts your shopping skills to the test quite like Christmas. Finding the perfect gift within your budget for all those you love best often makes Christmas time feel like the Olympics of great gift buying. To help you win that Gold Medal with ease, here's our pick from the Exclusive to Edgars products to suit every unique personality on your Christmas shopping list, while earning loyalty points on your Edgars Thank U card!
Lavish Luxury - for Mom or Gran
Every woman wants to stay looking young and at her best and this Christmas, the ultimate spoil has to be Radical Skincare's highly acclaimed anti-ageing products. Used by a number of well-known Hollywood celebrities, we recommend the Peptide Infused Antioxidant Serum (R1650) or the Anti-Aging Restorative Moisturiser (R1300).
A touch of pretty glamour - for your bestie or boss
SAMPAR has an incredible range of super effective and pretty products for this special person. Choose Glamour Shot Eyes (R295) to keep eyes looking bright and youthful or First Hands Cream (R395), a magic anti-ageing formula for hands. A real treat is SAMPAR's Lavish Dream Cream (R990) or Joyous Body Milk (R465).
Natural goodness – for the natural loving beauties
Look no further than Korres, a natural skincare and cosmetics range, new to South Africa which has been all the rage in Europe. Choose from an incredible selection of body milks and butters, scrubs and soaps with lavish ingredients such as Japanese Rose, Fig, Jasmine, White Tea and Basil Lemon, all for under the price of R150.
For fantastic natural cosmetics, why not give her a Korres Cherry Lip Gloss (R180), Sunflower and Primrose Eye Shadow (R140) or Rice Bran Mascara (R185). From foundations to blushers and nail polishes (all under R345), it's so easy to put together a personal Korres selection of make up for that special friend.
Fun make up gifts for your bestie
GOSH has two great gift sets for you to treat your your bestie who loves to look good! The Amazing Gift Set (R140) will allow her to create the perfect look of long lashes and pefectly lined eyes with GOSH's Amazing Length'n Build Mascara in black and GOSH Velvet Touch Eye Liner in Black Ink.
For the ultimate party girl – give her the Girls on Film Gift Box (R210). With the latest GOSH Catchy Eyes Mascara for ultra seductive eyes, pinkish glitter Nail Lacquer 619 and Light'n shine Lip Glaze with its own built in light and mirror in 04 Rosa, it creates a fantastic look for a night out on the town this Christmas!
Treat them like Royalty
Great for both guys and girls, the Kings & Queens range of body care products are cool and quirky as each one tells a unique and intriguing ancient myth. Choose Tsar Peter Tobacco Shower Gel (R69) or Bergamot Pepper Soap (R39) for him or Nefertiti Honey Body Milk (R89) and Queen Elizabeth Sugar Body Butter (R109) for her.
For the Nail fashionista
Looking for something small, stylish? GOSH and Nails Inc have a fabulous range of nail colours for you to choose from. Personalise your gift by choosing from GOSH's intense range of colours such as Bubblegum, Flamingo or Miss Minty (R79 each), or give her a great ready-made set from Nails Inc, the Nail Polish Diary (R495) or the Christmas Cracker Set (R385). With fantastic special effects and the latest trends to try, you can both have fun experimenting this Christmas.
Unforgettable Fragrances for everyone
It would not be Christmas without the perfect hand-picked fragrance and here are some great fragrances to choose from.
Spoil the men in your life with Korres' Saffron (50ml) or Vetiver (50ml) for men. For women, White Tea (50ml) Peony (50ml), Vanilla (50ml) and Iris (50ml) are an excellent gift choice, all for just R420 each.
Young ladies will love the Gossip Girl fragrances (R295 each) from Scent Story. Inspired by the popular TV series, Spotted (50ml) is a citrus and floral fragrance, perfectly at home in the most fashionable rendez-vous, whilst XOXO (50ml) is a confident, floriental and cosmopolitan perfume with a romantic heart for girls who have a taste for self-indulgence.
For 24 fans, guys will enjoy one of the four fabulous scent options to suit his personality and style, including 24 Classic (50ml) or 24 Platinum for R495 or 24 Gold (50ml) for R535.
GOSH In The Box fragrances (R195) for women and for men are a also a great gift. For something simpler, choose the floral Nothing More For Her (R149) in gold packaging or the modern fresh, sliver packaged Nothing More for Him (R149).
Finally, for a fun and quirky range of personalised fragrances, look no further than the Kings & Queens variety of great scents all for R199. Our recommendations include Perfume Queen Sheba for Her (100ml), Perfume King Solomon for Him (100ml) or Perfume Ophir Gold for Him (100ml).
"Finding what you need this Christmas is easy with our extensive range of sought-after brand names," says Edgars' Sharon Dickinson. "We want to put the fun back into Christmas shopping and help you enjoy spoiling your loved ones in style".
Not only is Edgars making what to buy easier, they're also making shopping easier too with their new online boutique. Simply visit http://www.redsquare.co.za and have your Christmas list delivered to your door by placing your orders before the 18th December or before the 13th December, if you live outside of the major cities.
With Christmas shopping made this much of a pleasure, now you can have yourself a very merry little Christmas too.
ENDS
About Edcon
Edcon is South Africa's largest non-food retailer, with a market share of the South African clothing and footwear (C&F) market nearly twice that of its nearest competitor, trading through a range of retail formats. The Group has grown from opening its first store in 1929, to trading in 1,233 stores (at March 2013) in South Africa, Botswana, Namibia, Swaziland, Lesotho, Mozambique and Zambia. Edcon has been recognised as one of the top companies to work for in South Africa and continues to make significant progress in its employment equity and transformation goals.
Our retail businesses are structured under three divisions: Edgars division, including Edgars, Boardmans, Edgars Active, Edgars Shoe Gallery, Red Square and the Group's mono-branded stores such as Topshop Topman, serves principally middle and upper income markets; Discount division including Jet, JetMart and Legit, serves principally middle to lower income markets; and CNA, the Group's stationery, books, games, movies, music, hi-tech electronics and mobile retailer. The Edcon Credit and financial services division provides credit and insurance products to the Group's customers.
With the launch of its Thank U loyalty program, Edcon now has the largest retail customer database in South Africa with approximately 10 million customers. This enables Edcon to provide customers with relevant offerings across its suite of retail and financial services products.
For more information, please visit the Edcon website: http://www.edcon.co.za.
About Edgars
Edgars is the Department Store of Choice for Men's, Ladies, Kidswear, Footwear and Accessories for every occasion as well as leading Cosmetic brands from around the world including GOSH Cosmetics, Nails inc, Sampar, Korres, Radical Skincare, Greenland and Kings & Queens. Showcasing the widest range of the latest's fashion trends from top international brands to own private label brands; Edgars offers something for everyone. There are 181 Edgars' stores in South Africa including neighbouring countries.
For more information, please visit the Edgars website http://www.edgars.co.za.
About Red Square
Red Square is South Africa's leading cosmetics speciality brand offering the widest range of national and international branded cosmetics in 39 stores and with 3 new stores opening on the 26th September, customers will now be able to choose from 42 stores or shop online at http://www.redsquare.co.za.
Covering make-up, skincare, fragrances and accessories, Red Square includes famous brands such as Clinique, Clarins, Estee Lauder, L'Oreal and Revlon and is constantly developing its catalogue as seen with the recent additions of GOSH, Nails Inc, Smashbox, Bobbi Brown & CK Colour. Customers can consult a beauty advisor at the Red Square treatment counter for a free skin analysis.
Red Square now offers a unique sampling programme for on-line customers that allows them to choose three free samples with every order. The website promises to be a hugely valuable tool with a wealth of product information and customer reviews. Most of the brands in store are available on the website, with more brands being added every month. All orders over the value of R350 are delivered at no charge.
Customers can select from a wide choice of payment options including Edgars Cards and Jet Thank U account cards, as well as all major credit cards. The Thank U loyalty programme offers additional customer benefits which can be earned when spending in-store or on-line.
Call the Red Square Call Centre on 0800 203 925, visit http://www.redsquare.co.za or email redsquareinfo(at)edcon(dot)co.za.
Where can we get more information?
Call the Red Square Call Centre on 0800 203 925, visit http://www.redsquare.co.za or email redsquareinfo(at)edcon(dot)co.za.
Customer Service Call Centre Operating Hours:
Monday to Friday 08h00 to 18h00
Saturday and Sunday 09h00 to 15h00
Public Holidays Closed
How do I apply for an account?
At any Red Square / Edgars store in the customer service department.
SMS your name, surname, ID number, gross income and expenses to 49222.
Click on the "apply for an account" link in the footer of the website and complete the online application form.