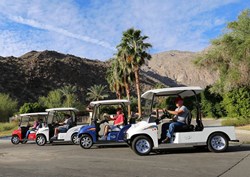 Reedsburg, Wis. (PRWEB) November 08, 2013
The Drive for Veterans, a fundraising group working to raise awareness and financial support for wounded American veterans, is currently traveling across the southern United States in low-speed electric vehicles to reach their goal of raising $500,000. One hundred percent of the proceeds raised will be donated to The Semper Fi Fund/America's Fund and the Fisher House Foundation, two groups dedicated to helping wounded veterans and their families.
The vehicles being driven are manufactured by Columbia ParCar, the organizing sponsor of the Drive for Veterans. When the Drive is complete, its participants will have traveled from California to Florida, making appearances at events, celebrations and VA offices along the way. The team is currently driving across New Mexico and will be stopping in Lubbock, Tex., Brownfield, Tex., Post, Tex. and several other cities for fundraising events before moving on to Louisiana.
"We're incredibly excited to donate to these charities and help our veterans," says Todd Sauey, president of Columbia ParCar. "This cross-country trip is highlighting the needs of wounded veterans nationwide while also providing the financial and emotional support and care our heroes need to heal. Everyone involved is meeting wonderful, caring people along the route who want nothing more than to help those who sacrificed everything for us."
"Our service men and women are subjected to stress, fatigue, injury and personal pain that none of us will ever understand," says Del Smith, project manager for the Drive for Veterans. "Our work to raise funds, assistance and awareness for our wounded heroes requires the help of the citizens of this great country. Come see us and help our cause when we visit your town. Our heroes are depending on your support and compassion."
For more information on the Drive for Veterans, to help support wounded veterans and their families by donating to the cause, and to see the route, visit: http://www.driveforveterans.com.