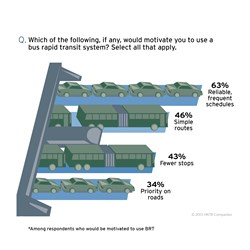 Across the country, more and more agencies are turning to bus rapid transit as a way to relieve congestion, reduce pollution and support job growth.
Kansas City, MO (PRWEB) November 07, 2013
For transportation experts like Liz Rao, HNTB chair public transit services, there is a rapidly growing transit option available that offers communities a viable, cost-effective way to attract non-traditional riders and get them to their destinations more quickly: bus rapid transit.
Bus rapid transit is a lower-cost, more easily implemented alternative to a rail-based commuter transit system, yet still includes many popular features of rail-based public transportation, such as routes that are clearly laid out and run on a frequent and reliable schedule. BRT systems also often include low-emissions vehicles, electronic and/or automatic payment methods, and real-time arrival and departure updates.
HNTB Corporation's latest America THINKS survey shows Americans are open to new approaches to public transportation, such as bus rapid transit.
In fact, if all other factors were the same, almost 6 in 10 (55 percent) Americans would prefer a new bus system be integrated into their area over a train system. That may be why nearly 3 in 4 (73 percent) of those who currently don't have a bus rapid transit system where they live would support that kind of development.
"Across the country, more and more agencies are turning to bus rapid transit as a way to relieve congestion, reduce pollution and support job growth," Rao said. "Embracing this new generation of proven mass transit concepts will help attract drivers off our highways, allowing everyone to enjoy quicker commutes, and customers the use of low-emission vehicles, off-board fare payment and real-time travel information."
HNTB has been involved in the planning and design of bus rapid transit operations in a number of states, including BRT planning and design for Miami-Dade Transit to decrease transit times in a 15-mile corridor along U.S. 1 from Aventura Mall to downtown Miami; the first rural bus rapid transit line in the nation, the VelociRFTA in the Roaring Forks Valley, Colo.; and with the Kansas City Area Transportation Authority. Called the MAX, KCATA's bus rapid transit service began operating in 2011 and has been widely acclaimed by the community for providing faster, more frequent service and the latest in technology. In just the first year, ridership increased 30 percent and the system has received an unprecedented 90 percent customer satisfaction rate.
Those in the Midwest are more likely than their counterparts in other regions of the country (78 percent versus 72 percent) to back BRT implementation in their areas. For those without BRT currently, higher public transportation fares (62 percent) are preferable over higher taxes to fund implementation.
Among the 82 percent of Americans who would generally be interested in using a BRT system, dependability is key. More than 6 in 10 (63 percent) of these people would want the buses to run on reliable, frequent schedules – and 45 percent would be swayed by real-time departure and arrival updates.
About the survey
HNTB's America THINKS transit survey polled a random nationwide sample of 1,127 Americans Sept. 5-12, 2013. It was conducted by Kelton, which used an e-mail invitation and online survey. Quotas were set to ensure reliable and accurate representation of the total U.S. population ages 18 and over. The margin of error is +/- 2.9 percent.
About HNTB
HNTB Corporation is an employee-owned infrastructure solutions firm serving public and private owners and construction contractors. With nearly a century of service, HNTB understands the life cycle of infrastructure and addresses clients' most complex technical, financial and operational challenges. Professionals nationwide deliver a full range of infrastructure-related services, including award-winning planning, design, program delivery and construction management. For more information, visit http://www.hntb.com.