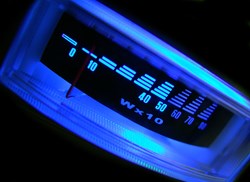 Chandler, AZ (PRWEB) November 07, 2013
Focus Display Solutions, designer and supplier of custom LCD displays, announces that a new and superior type of LCD technology is now available. V-series VATN LCD technology provides sharper contrast and increased brightness compared to older LCD technologies such as STN (Super Twisted Nematic) and FSTN (Field Super Twisted Nematic) LCD displays.
Besides better contrast and brightness, VATN offers other benefits over STN and FSTN. VATN is easier to read in dark environments because it operates in negative mode with a transmissive polarizer and can incorporate any color LED backlight. That also means that VATN is ideal for applications that require a custom-sized glass with customer-chosen symbols and icons.
And since the nematic fluid in VATN LCD technology is positioned vertically to the display's glass, the viewer experiences a wider viewing angle along with a true black background. VATN also performs well in a wide range of temperatures, from -30 degrees Celsius to 70 degrees Celsius. Custom Display options include statically-driven, parallel, I2C or SPI interfaces.
VATN LCD technology is ideal for many different applications, including automotive dash boards, avionic displays, home appliances, industrial machinery, medical devices, gas analyzers, industrial control technology and any application requiring readable displays in a dark or low light ambient environment.
RoHS-compliant VATN LCD is available in custom sizes, from less than one inch to five-inch diagonal. Pricing is approximately $3 to $30 per unit in production quantities, dependent on size and quantity ordered. Complete custom design services are available with prototype lead times ranging from six to eight weeks. In North America call 1-855-523-3477 or email sadied(at)focuslcd(dot)com to discuss your project, or visit http://www.focusLCD.com to learn more about VATN technology and its many uses.
About Focus Display Solutions
Located in Chandler, Arizona, Focus Display Solutions designs and builds several types of custom LCD and LED products, including character alphanumeric LCD modules, monochrome graphic LCDs, static (segment) displays, TFT (Thin film transistor), TN color (Field Sequential Color), VATN (Vertically Aligned Twisted Nematic), EBT (Excellent Black Technology) and OLED (Organic Light-Emitting Diode), custom electronic assemblies, user interface solutions and custom LCD modules.
For more information about Focus Display Solutions and the company's LCD display products, visit their website at FocusLCD.com.