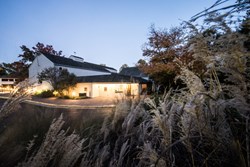 Vienna, Virginia (PRWEB) November 08, 2013
Kekuhi & Kaumakaiwa Kanaka'ole
Friday, November 22, 2013 at 8 pm
$25-$30
Descendants of the most prolific Hawaiian chanters of the 20th century, this award-winning family duo present native songs in a multigenerational performance. Kekuhi Kanaka'ole is the granddaughter of Edith Kanaka'ole, known as one of the greatest Hawaiian chanters. Together with her child Kaumakaiwa, they continue the tradition of performing native songs and showcasing their history worldwide. Kaumakaiwa Kanaka'ole followed in the family's footsteps, dedicating her life to the art of hula and ancestral music. Kaumakaiwa has released three traditional Hawaiian albums and has been called the voice of Hawaii's new generation. Kaumakaiwa has won five Nā Hōkū Hanohano Awards—the Hawaiian equivalent of the Grammy Awards—including one for Vocalist of the Year in 2009. In 2006 both Kekuhi and Kaumakaiwa performed in Wolf Trap's Face of America™ Series as part of the Hawaiian dance company Hālau 'O Kekuhi.
Video: Kaumakaiwa Kanaka'ole
Jonathan Edwards
Saturday, November 23, 2013 at 7:30 pm
$25
This vibrant singer/songwriter has been performing feel-good honky-tonk and heartfelt bluegrass for more than 40 years. Best known for his Billboard Top 5 hit "Sunshine," Edwards's repertoire includes many classics such as the lovelorn folk song "Sometimes in the Morning" and the playful party tune "Shanty." In 2011, he released the contemporary folk record My Love Will Keep, which highlights his "strong and richly textured" voice (AllMusic.com). A year later, Edwards released Top 40, a two-disc collection of his best studio recordings that spans more than four decades. As The Martha's Vineyard Times noted, "An Edwards performance is an unforgettable roller-coaster ride which combines his remarkable singing, storytelling, and wit."
Video: Jonathan Edwards
Tickets can be purchased by calling 1.877.WOLFTRAP; or online at wolftrap.org. For more information, call The Barns at Wolf Trap at 703.938.2404 or our general information line at 703.255.1900.
High-resolution images of the artists listed are available on Wolf Trap's website: wolftrap.org/Media_and_Newsroom/Photos_for_Publication.aspx.
###