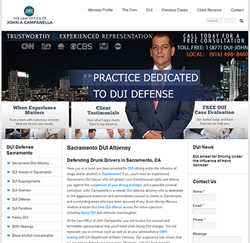 (PRWEB) November 12, 2013
The Law Office of John Campanella, a DUI defense firm in Sacramento, California, has released a redesigned website at http://www.SacramentoDUIinformation.com/ which provides detailed information regarding the civil and criminal aspects of a California DUI arrest. Mr. Campanella has established this website to inform the public of Sacramento about DUI defense strategies and to assist them in overcoming DUI charges.
John decided to launch the new design as a result of his decision to sharpen the focus of his Sacramento DUI Defense. As an aggressive DUI Lawyer, he understands the impact these charges can have on an individual's DMV record, job status, and even more importantly, their personal lives. It is essential to select the right attorney to defend your case, and protect your record.
According to the newly expanded website, Mr. Campanella understands that a DUI conviction can lead to life altering changes, such as one's ability to legally operate a vehicle. As a result, people who have been accused of DUI need to work with an attorney who truly understands DUI cases, California DUI laws, with the experience to provide the best representation possible in court and with the DMV. Mr. Campanella's knowledge and aggressive representation in DUI cases has established him as a top DUI attorney in Sacramento.
Sacramento DUI attorney John A. Campanella knows that just because somebody has been charged with a DUI does not mean that they are guilty. For those arrested for DUI hiring an experienced and compassionate attorney like John Campanella can help. Mr. Campanella can clearly explain legal options available and work toward a favorable outcome. Mr. Campanella is also experienced representing clients with their hearing before the DMV which is important because it deals with whether or not one's driver's license will be suspended.
John Campanella has handled countless DUI cases with clients throughout the Central Valley and is experienced in defending people who have been charged with a criminal offense. Mr. Campanella is a highly respected Sacramento DUI Attorney with a lot of success in defending clients who have been charged with criminal offenses.
DUI Attorney John Campanella concentrates his Sacramento practice solely on the representation of criminal defendants accused of alleged Sacramento DUI law violations. An experienced and aggressive Sacramento DUI lawyer, he will personally handle every aspect of your case. Don't let an arrest for a Sacramento DUI lead to a conviction. A thorough investigation and analysis by John's DUI law firm of your specific case facts and a strong DUI defense utilizing current Sacramento DUI law will provide you with the best chance of a favorable outcome following a DUI in Sacramento. Sacramento DUI Law is constantly evolving with stringent statutes and case law precedent, which pertain to the California drunk driver. There knowledgeable California DUI attorneys can fight for your rights in a court of law to avoid or minimize the effect of a DUI conviction in Sacramento.
To learn more about The Law Office of John A. Campanella, or to see the newly expanded website, please visit http://www.SacramentoDUIinformation.com.
John Campanella can be reached at 916-498-8460 and via email at john(at)sacramentoDUIinformation(dot)com.