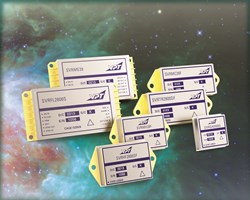 Blacksburg, VA (PRWEB) November 12, 2013
VPT Inc., a HEICO company (NYSE:HEI.A) (NYSE:HEI), announces the release of Standard Microcircuit Drawings (SMDs) by the Defense Logistics Agency (DLA) for VPT's entire SVR Series of radiation hardened DC-DC converters, point of load converters, and EMI filters. VPT's SVR Series products were developed specifically for the most extreme requirements of space systems.
The SVR Series, which includes 24 modules in seven product families, is suited for use in LEO, MEO, GEO, deep space and launch vehicle programs and was initially introduced in May, 2013. SVR Series products feature maximum levels of radiation hardening with a Total Ionizing Dose (TID) of 100 krad(Si) and SEE of 85 MeV-cm2/mg.
The SVR Series is based on space-proven heritage designs and available qualified to MIL-PRF-38534 Class H and Class K. These are the first power conversion products commercially available that are designed and manufactured in accordance with Aerospace Corporation's Technical Operating Report (TOR) requirements for space power systems.
"Our broad offering of space qualified products are proven in programs like Venus Express, GPS III, Mercury Messenger and many others," said Monty Pyle, Vice President of Sales and Marketing. "We are extremely pleased with the adoption of our SVR products into new critical space developments to date, and with the DLA's approval of the reliability and radiation performance of our entire SVR space series, engineers can readily select modules from SMDs with maximum levels of radiation hardening that are qualified to MIL-PRF-38534 Class H and Class K standards."
The complete SVR Series products available on DLA SMDs:
SVRHF 15W single output DC-DC converter
SVRHF 15W dual outputs DC-DC converter
SVRTR 40W single output DC-DC converter
SVRTR 40W dual outputs DC-DC converter
SVRFL 100W single output DC-DC converter
SVRFL 100W dual output DC-DC converter
SVRGA 8A point of load DC-DC converter
SVRMH 2A EMI filter
SVRMC 4A EMI filter
SVRME 10A EMI filter
About the SVR Series of Space Qualified Power Products
The SVR Series performance in space programs is guaranteed through the use of radiation hardened semiconductor components, radiation lot acceptance testing (RLAT) of non-hardened components, and analysis. The SVR Series is characterized for TID performance including ELDRS and SEE according to VPT's DLA-approved Radiation Hardness Assurance (RHA) plan per MIL-PRF-38534, Appendix G, Level R. Characterization is performed at both the component level and at the SVR Series hybrid level.
About VPT and HEICO
VPT, Inc., part of the HEICO Electronic Technologies Group, leads the industry in providing innovative DC-DC power converters, EMI filters, and custom engineering services for avionics, military, and space applications. VPT can deliver its power solutions in a fast timeframe, with certified quality, at a comfortable cost. Every day, organizations like NASA, Lockheed Martin, Boeing, the United States Air Force, and many more depend on quality solutions from VPT to power critical systems. On the ground, in the air, or beyond, VPT provides the power driving critical missions that require high reliability.
For more information about VPT, please visit http://www.vptpower.com.
HEICO Corporation (NYSE:HEI.A) (NYSE:HEI) is engaged primarily in niche segments of the aviation, defense, space and electronics industries through its Hollywood, FL-based HEICO Aerospace Holdings Corp. subsidiary and its Miami, FL-based HEICO Electronic Technologies Corp. subsidiary. For more information about HEICO, please visit http://www.heico.com.
# # #
Products described in this communication are subject to all export license restrictions and regulations which may include but are not limited to ITAR (International Traffic in Arms Regulations) and the Export Administration and Foreign Assets Control Regulations. Further restrictions may apply. VPT, its tagline and logo are trademarks and service marks owned by VPT, Inc. Contact VPT sales for any further information.