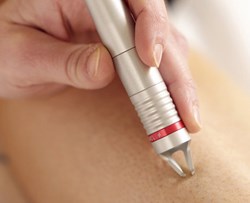 New minimally invasive treatment modalities are now available to safely and effectively eliminate varicose and spider veins.
Tampa, Fl. (PRWEB) November 13, 2013
The Premier Vein Institute is launching a new social media campaign to educate the public about new minimally invasive treatments for vein disease. According to the Tampa, FL vein center, new treatment modalities are now available to safely and effectively eliminate varicose and spider veins, right in a vein specialist's office.
Tampa vascular doctor and Institute Director, Dr. Obinna Nwobi, says with a twinkle in his eye, "These are not your mother's vein disease treatments. They are new, safe technologies. There is no reason why anyone should suffer the cosmetic annoyance or debilitating physical symptoms of varicose and spider veins." The Institute's vein specialists make use of these modern modalities to eliminate varicose and spider veins,
The Premier Vein Institute hopes that by providing this information on their website and via Facebook and Twitter, the public will be better informed as to the treatment options available for varicose and spider veins and become more willing to seek out vein disease treatment in Tampa. The campaign will run throughout November.
For more information, visit:
http://www.premierveins.com/.
Vein Disease Treatment Options
Vein problems, including varicose veins and spider veins, are quite common: over 30 million Americans will suffer from them at some point in their lives. Varicose veins are large, bluish, bulging veins on the surface of the skin, and they may appear twisted or rope-like. Spider veins are much smaller, reddish, web-like veins. Both men and women suffer from vein problems, but they are more common among women.
Modern vein disease treatment includes sclerotherapy, microphlebectomy, endovenous laser treatment and radio frequency ablation. These techniques are minimally invasive and can be performed on an outpatient basis, meaning they require little downtime, have few side effects, and offer great results.
About the Premier Vein Institute
Premier Vein Institute is a leading source of vein disease treatment and education in four different Florida locations, including Tampa Bay, Lakeland, Brandon, and Plant City. The center is dedicated to diagnosing, treating, and preventing vascular disease as well as providing information on all types of vascular conditions. Board certified surgeon Dr. Obinna Nwobi heads the center, bringing his expertise in minimally invasive surgery to the Polk county area. Premier Vein Institute strives to offer the most up-to-date treatments available, allowing their patients to choose from surgical, non-surgical, and minimally invasive options. Equally central to the center's mission is education. Dr. Nwobi and his staff work to educate patients on preventative health to help reduce vascular disease related mortality rates. Patients who take advantage of Dr. Nwobi's expertise benefit from shorter hospital stays and faster healing times, allowing vein disease to be addressed quickly and easily.
Premier Vein Institute
http://www.premierveins.com/
Tel. 727-527-5100