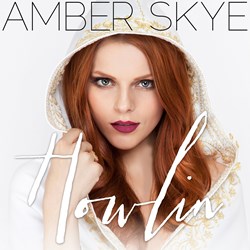 New York, NY (PRWEB) November 11, 2013
Amber Skye (aka Amber Skye Noyes), singer/songwriter and new series regular on The CW's drama "Beauty and the Beast," is pleased to announce the release of her new single "Howlin," available on Amberskyemusic.com, iTunes and more. Skye makes her debut at 9 p.m EST on The CW as "Tori," a she-beast who has recently discovered her powers.
"Howlin" is co-produced and written by Skye and EMW Music Group, comprised of producers Ben Lindell and Doug Larsen of New York City. Skye first collaborated with EMW Music Group on "Bury me Deep (RIP)," an original song on Shuffle, a charity album released in June supporting VH1 Save The Music Foundation. "Howlin" explores what it's like to be in love and lust, but out of control.
"I've always been drawn to the idea that love literally transforms people at a physical, emotional and psychological level and 'Howlin' touches on that idea," said Skye. "In the video I wanted to visually tell the story of this inherent human experience through clips from old Hollywood movies, because like savage love, the footage is glamorous yet dark."
The new single is Skye's first official song release in three years.
"I took time the past few years to experiment with different kinds of music, perform live shows and remember what it was like to feel authentically me. I've always loved folklore, fairy tales and mystical themes, but I wanted to bring that to life in a modern way that people could believe in and be inspired by," explained Skye.
"Howlin" is available on iTunes, Amazon, Spotify and Smule's "Sing!" app. To watch the "Howlin" video, visit http://www.amberskyemusic.com.
Additional ways to view/listen to "Howlin" can be found on https://soundcloud.com/amberskyemusic/amber-skye-howlin.
http://www.youtube.com/watch?v=NhpImdnb_UI
About Amber Skye:
Amber Skye (also known by her full name Amber Skye Noyes), is a New York-based singer/songwriter and actress. In 2010, she released an EP entitled "Secret" and placed as a finalist in the Billboard Songwriting Contest and the International SongCircle Competition. In May 2013 Skye landed the role of Michelle on the re-launched soap opera "One Life to Live." She recently became the newest series regular (and first female beast) on The CW's drama "Beauty and the Beast," which airs Mondays at 9 p.m. EST. Skye will begin airing TONIGHT as Tori, a she-beast who has recently discovered her powers.
----------------------------------------------------
Amber is available for select interviews, please inquire with the media contact:
Laura Benson
Bensonlj(at)gmail(dot)com
(706) 255-1246