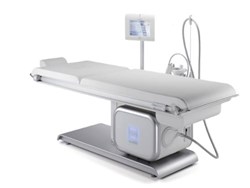 "Everyone knows about The Bubble and the SpaShell oxygen bath by now, but we have just started offering Lipomassage at the center as well."
Miami, FL (PRWEB) November 08, 2013
This week, the international wellness company, Figurella, opened the doors to its Coral Gables, Florida location for a very special open house. The Florida weight loss centers are gearing up for the holidays and wanted to give people an opportunity to try the patented Figurella method risk free. "We saw several people come through," says Giulia Di Loreto, a Figurella spokesperson. "People were very excited to take advantage of the free session we were offering." Figurella offered a free session and demos of a new product as well as light refreshments.
According to Di Loreto, the word is spreading throughout the Miami area about the Figurella method and the way that it tones the bodies of women without using weights. "Everyone knows about The Bubble and the SpaShell oxygen bath by now," she says, "but we have just started offering Lipomassage at the center as well." Lipomassage is a soothing massage performed using the new Cellu M6 Endermolab, a machine designed to rid the body of fat deposits, known as cellulite, that are resistant to diet and exercise. According to Di Loreto, "It really only takes six thirty-five minute sessions for women to see a real difference in their figures. According to the company, Lipomassage helps women reach their goals of toning the body without the use of weights.
In addition to the Open House this week, Figurella announced the "Fall in Love with Figurella" promotion as well as new operating hours for its Coral Gables location. The center will now be open on Mondays, Wednesdays and Fridays from 9:00 AM – 1:00 PM and again from 4:00 PM – 7:00 PM. Then on Tuesdays and Fridays, the center will be open from 8:30 AM – 7:00 PM. The center will remain closed on the weekends.
Figurella has been a mainstay in the international wellness community and fitness industry for three decades and continues to help women in every age group achieve their ideal body shape even thirty years after its inception in Italy. For more information on FigurellaUSA, contact a Florida weight loss boutique:
Figurella Coral Gables
1600 Ponce de Leon Boulevard Coral Gables, Florida 33134 786-777-8951
Figurella Palm Beach Gardens
5100 PGA Boulevard, Suite 101 Palm Beach Gardens, Florida 33418 561-799-3600
Hours of operation at both centers are Monday – Friday from 9:00 a.m. – 7:00 p.m. Appointments can also be made online at http://www.figurellausa.com.