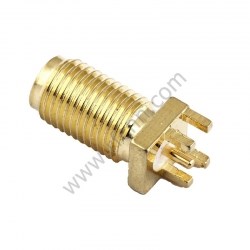 (PRWEB) November 08, 2013
Recently, RFcnn.com, a renowned online company of connectors, has announced its new coax connector range. In addition, the company starts to launch a promotion of the fresh products today. All its newly-released coax connectors are now available at discounted prices, up to 30% off.
RFcnn.com specializes in various kinds of high end coax connectors and RF cables. It exemplifies and awards its ongoing commitment to offering innovative solutions that help both individuals and organizations through the use of high quality products. It strives to save time for customers by providing them premium quality products at affordable prices. It has developed and proven the effectiveness of a large collection of cable assemblies and connectors specifically tailored to the various needs.
"We are glad to launch the promotion of our new coax connector items. We would like to show appreciation to our old and new customers worldwide. We are a reliable supplier in the industry. Our current special offer translates into plenty of dollars less than the listed prices from other companies," says, the CEO of the company.
As an innovative connector manufacturer, RFcnn.com provides a lot of wonderful connectors: coax connectors, Mini Balun IDC connectors, SMA RF connectors and more.
About RFcnn.com
RFcnn.com is an online shop of Zhenjiang Fourstar Electronics Co. LTD, which is a China based company that aims to provide customers with high quality products at the lowest possible prices. Customers can try the company's products through sample orders with a long-term contract. Most customers come back soon after receiving their first deals.
More details about the company's high quality connectors can be found at http://www.rfcnn.com/SMA-Female-For-PCB-Board-Edge-Soldering-RF-Connector-97.html.