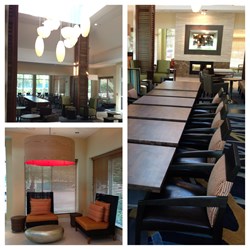 "Our revived product combines beautiful aesthetics with comfort, functionality, and technology to offer travelers a true 'home away from home'."
Orlando, Florida (PRWEB) November 08, 2013
Driving up to the hotel, guests will notice the fresh paint, new signage, and lush landscaping. Inside, the lobby has been redesigned to embrace the Hilton Garden Inn brand wide initiative "Project Grow." The innovative design offers open flow for more guest socialization and interaction, inviting guests to relax, linger and enjoy the Garden Pavilion. Communal breakfast and bar tables and signature seating serve as social and meeting spaces throughout the day. In addition to the stunning lobby, the meeting rooms, guest rooms, restrooms, corridors, and outdoor pool area have been renovated. Our spacious king traditional style rooms feature the Garden Inn Sleep System bed which remains unmatched in comfort and style.
Foodies will be pleased to see the changes in the restaurant and bar. Renamed and renovated, The Garden Grille & Bar has a fresh menu that offers great variety and excellent pricing to accommodate the needs of today's busy traveler. Delicious soups, salads, sandwiches and flatbreads, including many vegetarian and lighter options will please any palate. With entrée's like the Thai Chicken Pasta or NY Strip Steak, guests won't need to leave the hotel to find a delicious meal. The bar offers world class wines, craft and import beer, and cocktails made with premium spirits. As part of the JHM Hotels family of properties, this project represents the company's commitment and vision to provide product distinction in the market, while focusing on outstanding service. The lodging company has been recognized for excellence in numerous categories by the industry's leading brands.
Vinny Patel, JHM Hotels' Design and Construction Project Manager said, "Our revived product combines beautiful aesthetics with comfort and functionality. These, combined with technology improvements allow both business and leisure travelers to truly experience a 'home away from home'."
Alex Blanco, General Manager of the property says, "We are very grateful to our loyal guests and team members that supported us during this renovation process. We are committed to listening to our guests' needs and Keeping Our Promises to exceed their expectations."
The property will be hosting a Grand Re-Opening on Wednesday, November 13 at 4 p.m.