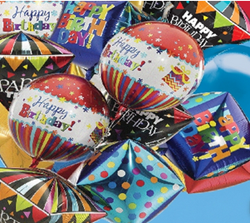 The American manufacturer has brought whole new shapes to the balloon sector with a number of exciting designs: Orbz, Cubez and Diamondz.
Leicester (PRWEB UK) 11 November 2013
Balloons have long been a staple of birthday parties and celebratory events. However, with the classic party balloon design ever-present, it is inevitable that balloon manufacturers are keen to modernise, by creating new inventive designs to carve new niches in the party supply market.
Committed to supplying party balloons with the newest and most interesting designs is House Parti Ltd. As the biggest online wholesaler and party ware supplier in the Midlands, House Parti has a vast selection of balloon and party ware housed under one roof.
Now House Parti are excited to announce that they have taken on a new range of innovative balloons, produced by industry pioneers Anagram. The American manufacturer has brought whole new shapes to the balloon sector with a number of exciting designs: Orbz, Cubez and Diamondz.
Anagram's 15" foil Orbz, for instance, are spherically shaped, and resemble a beach ball, which can be played with for up to 3 weeks after the party's over. With designs for every occasion (from Get Well Soon themed balloons to Birthday balloons) Orbz Balloons also come packaged with an exclusive inflation gauge and instructions.
Some of Anagram's Orbz are also licensed products. Disney's Mickey and Minnie Mouse, Spongebob Squarepants and Hello Kitty are just some the familiar faces to be found on the Orbz selection. The licensed balloons are creatively designed to display four different images on the balloon itself - as the balloon rotates, it even tells a unique story. The Cubez and Diamondz are similarly imaginative, with colourful cubic and diamond designs adding a new twist on the conventional party balloon.
Commenting on their newest acquisitions, Pete Uppal, Managing Director of House Parti says, "These days parties are more and more competitive. Buying ordinary cheap balloon designs is a bit of a half-hearted effort considering the vast amount of different, interesting balloons designs out there. Anagram's balloons are designed to stand out from the pack, with a metallic shiny look, and colourful patterned designs. Their licensed products are worth keeping in stock as parents will always want to personalise their child's birthday party with their favourite cartoon character. Anagram's different shaped balloons offer our customers even wider variety and are a great addition to House Parti's selection of party balloons."
To purchase from the new Anagram Orbz, Cubez or Diamondz online from House Parti, simply visit http://www.houseparti.co.uk to browse their vast range. With free next day delivery when a customer spends over £49, House Parti supply retailers and resellers, from high-street shops to newsagents, all of whom are welcome to register for a trade account. To contact the friendly House Parti sales team, either email sales(at)houseparti(dot)com or phone 0116-2710100.