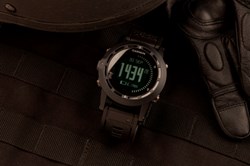 We are really excited about this watch because it solves a lot of the issues for military folks that the Garmin fenix did not
Bozeman, MT (PRWEB) November 08, 2013
Garmin Tactix is a new military GPS watch loaded with special features just for military and tactical ops according to the Heart Rate Watch Company.
"We are really excited about this watch because it solves a lot of the issues for military folks that the Garmin fenix did not", says Rusty Squire, President of the Heart Rate Watch Company. He adds, "It uses a curved glass, non-glare lens and green LED back light that won't flare out with night vision goggles".
Features
Tactix is waterproof to 50 meters and contains a barometric altimeter, barometer, 3-axis compass and can record 1,000 way points and 10,000 track points. "This watch has Bluetooth Smart embedded so it can remote control a Garmin VIRB Elite action camera as well", says Squire.
The all-black, rugged design was engineered to the strict requirements mandated by tactical units for gear. Its scratch-resistant, curved lens is rugged and prevents reflection. The U.S. Tides feature and Jumpmaster mode are invaluable to amphibious and airborne operations. "The green backlight won't compromise your position or your vision", says Squire.
Tactix displays sun/moon information, a hunt/fish calendar in addition to basic watch functions such as alarms, tones, vibration alerts, a timer, stopwatch and world clock with the ability to display several times zones at once.
"The ABC sensors are automatically calibrated using GPS and automatically set your time based upon time zone", says Squire. He adds, "To get highly accurate temperature readings it also pairs with the Garmin Tempe sensor which eliminates any outside interference from heat coming off your body".
When It Will Be Available
Estimates are for a release date of late November to early December. "We are taking advanced orders now and won't charge your card until it ships, plus we ship to APO's", says Squire.
HRWC Military Discount
"For 5 years we have offered all US military personnel, active and retired, a 10% discount and all you need to do is call us at 866-586-7129 to get your military code authorization", says Squire. "We are proud to support our troops and will continue that tradition".
Cost
The Garmin Tactix will cost $449.99 and is available for purchase now at the Heart Rate Watch Company with a late November to early December shipping date.