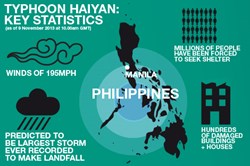 Sarasota, Fla. (PRWEB) November 08, 2013
WHO: Originally responding to a 7.2-magnitude earthquake that hit last month, international disaster relief organization, ShelterBox, is working in the Philippines as what meteorologists are calling the most powerful storm ever to make landfall approaches.
WHAT: With winds of 195mph and gusts up to 235 mph, Super Typhoon Haiyan (known locally as Yolanda), which struck the Philippines yesterday evening, is predicted to be the largest storm ever recorded, surpassing Hurricane Camille in 1969.
DETAILS: Reports say more than 12 million people are at risk from the storm, including the population of the country's second largest city, Cebu. Thousands of people have been evacuated and thousands more have fled their homes as the category 5 storm approached.
ShelterBox currently has a team based in the country, responding to a 7.2 magnitude earthquake that hit Bohol on October 15. They will now assess need associated with the typhoon.
ShelterBox Response Team volunteer, Mark Dyer said, "The storm has now passed [Bohol], and our team is doing well. But we are already getting reports of homes being washed away in flooding, and local communications are down."
Meteorologists predict the storm will head out across the South China Sea.
ShelterBox USA continues to respond to the Syrian refugee crisis since last October, providing emergency tented shelter and other essential equipment to refugee families living in Iraq, Lebanon and Jordan, as well as those displaced within Syria's borders. For the latest on this and other ShelterBox deployments, visit http://www.shelterboxusa.org/news.
ABOUT SHELTERBOX
Since 2000, ShelterBox has provided humanitarian following more than 200 disasters in over 90 countries. ShelterBox instantly responds to earthquake, volcano, flood, hurricane, cyclone, tsunami or conflict by delivering boxes of aid and other supplies. Each iconic green ShelterBox contains a disaster relief tent for an extended family, stove, blankets and water filtration system, among other tools for survival. ShelterBox's American affiliate, ShelterBox USA, is headquartered in Sarasota, Florida. Individual tax-deductible donations to ShelterBox USA can be made at http://www.shelterboxusa.org or 941-907-6036.
# # #