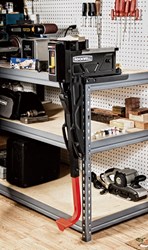 BenchJaws is the perfect workbench solution and serves any number of clamping operations.
New York, NY (PRWEB) November 11, 2013
The TOH Top 100 award reveals the must-have innovations of the year. Editors spent months testing to find the most distinct, helpful, and coolest home products in seven categories: Kitchen, Bath, Tools, Building Products, Outdoor Living, Home Tech and Finishing Touches. Each winning product is also labeled with icons such as Money-Saver, Easy Upgrade, Perfect Solution, Eco-Friendly, Splurge or Made in the USA. Each section includes picks for the most useful apps in each category.
A complete list of the TOH Top 100 can be found in the November/December issue of This Old House and online at http://www.ThisOldHouse.com/top100.
"We're delighted that BenchJaws has been recognized by This Old House as a must-have clamping innovation for today's homeowner, enthusiast and pro," said Jeanne White, Rockwell senior product manager. "BenchJaws provides hands-free clamping right from the workbench. While most conventional vise jaws open to only 10 in., BenchJaws extends up to 16 in. It supports loads up to 220 lbs. and has a clamping force of one metric ton (2,200 lbs.)."
"The 2013 TOH Top 100 is full of products that showcase ingenuity, demonstrate originality, wow us with their functionality, and of course, mark breakthroughs in their categories," said This Old House Editor Scott Omelianuk.
"However, the true test for any item on this list is simple: Is it useful and relevant to our readers? We agree that all these new products, in ways large and small, will improve the lives of our readers," Omelianuk added.
The 2013 list marks the third annual TOH Top 100 and includes items for people who love houses new or old and are looking for the newest ways to fix them up.
This Old House Ventures Inc. is America's premier home enthusiast brand, netting 50 million multi-media impressions each month through its award-winning television, print, and web properties. The leading consumer publication for home how-to and inspiration, the award-winning This Old House magazine currently has a circulation of 950,000 and reaches an audience of almost six million. This Old House is available on tablets and is published by the Time Inc. Lifestyle Group, a division of Time Inc., the largest magazine media company in the U.S.