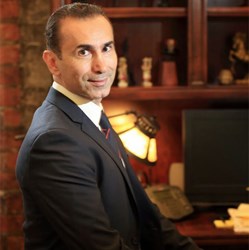 We don't make empty promises, we deliver results.
Los Angeles, CA (PRWEB) November 11, 2013
Expert Accident Lawyer in Los Angeles, Rodney Mesriani, Esq., sympathizes with the loved ones left behind by the senseless multi-car crash resulting in wrongful deaths, which occurred on October 22, 2013 in Northern California.
In the most recent horrific auto accident reported in October 23, 2013 by the Associated Press and posted in Kare11 News - NBC, a multi-car crash in Northern California has left five people dead, including a child, a pregnant woman and her unborn baby. Police report stated that up to a dozen people also suffered personal injuries in the said crash that happened at a busy intersection at about 5:21 p.m. on October 22, 2013. The report continued to state that police are still investigating the cause of the collision, but witnesses to the scene narrated seeing an SUV involved in the crash speeding with driver on a cellphone. (5 killed in car crash in Northern California)
Top Los Angeles personal injury law firm headed by Rodney Mesriani, Esq., opines that it is never wise to get distracted while operating a vehicle, be it talking on the cellphone, reading, eating or even drinking coffee while driving. A split second distraction on the road can cause serious injuries to others, which may even result in wrongful death, as what happened in the above report.
California Vehicle Code 22350 (Basic Speed Law) provides that "No person shall drive a vehicle upon a highway at a speed greater than is reasonable or prudent having due regard for weather, visibility, the traffic on, and the surface width of, the highway, and in no event at a speed which endangers the safety of persons or property." "The foregoing rule is the most basic of diligence required in order to save every motorist from property damage and physical harm. Verily, the reported multiple auto accident could have been prevented had the driver of the SUV been more mindful of the road," stressed Mr. Mesriani.
However, according to Top Accident Los Angeles Lawyers headed by Mr. Mesriani, in the unfortunate event that your family members were involved in a car accident and wrongful death resulted as a consequence, the survivors or heirs of the deceased victim can pursue a wrongful death claim. Experienced Los Angeles wrongful death attorneys warn everybody that wrongful death happens not only because of car accidents but can also result from bicycle accident, slip and fall accident, trip and fall accident, construction accident and medical malpractice, among others. In the end, Mr. Mesriani pointed out that the best protection from personal injury is to always use caution and be mindful of others in everything that we do.
Mesriani Law Group's diligent Los Angeles, California personal injury lawyers have been representing all victims of personal injury accidents resulting in wrongful death from auto accidents and even bike and bicycle accidents, motorcycle accidents, pedestrian accidents, truck accidents, bus accidents and train accidents for over two decades now. As of date, the well respected wrongful death attorneys of Mesriani Law Group have obtained millions in awards for all their personal injury clients for all types of injuries to include cases of wrongful death.
About Mesriani Law Group, P.C.
Mesriani Law Group, is a Los Angeles, California based personal injury law firm founded by Rodney Mesriani, Esq., which specializes in handling all types of injury related accidents, including wrongful death cases resulting from vehicle accident, truck and bus accident, motorcycle accident, bike accident, hit and run, drunk driving accident, uninsured motorist claim, slip and fall, pedestrian injury, construction injury accidents, premise liability, dog bite attacks, brain injury, spine injury, burn injury, pool drowning accident, product liability and even boating accident and aviation accident claims. Mesriani Law Group's top wrongful death lawyers in California offer aggressive legal representation against the party at fault regardless of the seriousness of the injuries or the actual value of the cases. The law firm's best Los Angeles personal injury lawyers are based in 5723 Melrose Ave., Suite 200, Los Angeles, CA 90038. To learn more about the firm, call 1.866.998.2545 for a free case evaluation or email them or take advantage of their free on-line case submission.