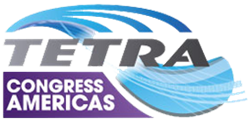 Sunnyvale, CA (PRWEB) November 11, 2013
SOLiD, a publicly-traded global communications technology innovator, is honored to join the inaugural TETRA Congress Americas in New York City. Gregory Glenn, Senior Director of RF Engineering at SOLiD, will present strategies to leverage wireless technology to enable communications for first responders inside large buildings, campuses, and public venues during an emergency.
The session will identify requirements for In-Building Signal Distribution solutions such as Distributed Antenna Systems (DAS) to successfully support myriad public-safety standards and technologies, and share best-practices for selecting, designing and deploying these in-building networks within the U.S. and global markets. It will also examine how TETRA fits in the U.S. public-safety market and the impact LTE will have on future networks and solutions.
To learn more or schedule a meeting, please contact SOLiD.
Event Information:
TETRA Congress Americas
November 14-15, 2013
"Strategies for Supporting P25, TETRA and LTE Public-Safety Communications Indoors"
Friday, November 15 at 4:15 p.m.
New York Hilton Midtown
1335 Avenue of the Americas
New York, NY 10019
Speaker Information:
Gregory Glenn is Senior Director of RF Engineering at SOLiD and an APCO International member. Mr. Glenn possesses more than 30 years of RF system design experience and is widely recognized as an expert on in-building signal enhancement for cellular and public-safety communications services. His extensive history in enabling indoor public-safety communications and deploying Distributed Antenna Systems in harsh environments contributed to the innovation of the SOLiD ALLIANCE DAS, a multi-service platform that provides capacity and coverage for commercial wireless, public-safety radio, private two-way radio and paging on a code-compliant, single-fiber architecture. Mr. Glenn frequently writes and presents on emerging RF and public-safety technology trends. He holds a patent for work within mobile RF, a General Class Radio Telephone license, as well as an amateur extra license.
About SOLiD:
SOLiD (http://www.solid.com) is a global communications technology innovator that enables cellular and public-safety communications indoors and outdoors through industry-leading RF Amplification and Optical Transport solutions. Our Distributed Antenna System (DAS) and Backhaul products have been deployed at leading hospitals; Olympic, professional, and college sports venues; government, university and Fortune 500 corporate buildings; metropolitan subways; and other marquee sites. For further information please email info(at)solid.com or call 888-409-9997.