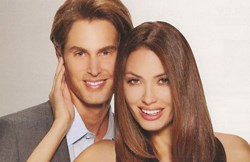 I have been using the Revive Shampoo & Conditioner for almost 2 months & my hair looks fuller, thicker, and healthier! I recommend these products to anyone suffering from hair loss.
(PRWEB) November 10, 2013
TheBeautyPlace.com is featuring Bosley's Professional Strength line that is an effective solution to create thicker fuller-looking hair. The collection is divided to target two different groups of clients. Bosley Professional Strength offers two regimens to address these individual needs. Bosley is famous for their hair restoration and innovation products that help restore hair to its previous fullness and thick texture.
Bosley Defense is one of their lines that can be used by people with minimal thinning or to further ensure continued thickness. It can be added to one's daily routine as a preventative measure or for extra volume and thickness for fine strands. Bosley Revive is another one of Bosley's lines that is more for people already experiencing substantial loss or thinning hair. It contains many of the same ingredients as the Defense Shampoo, but it more vigorously treats toxins like DHT that cause hair loss. Each line can be purchased for color or non color treated hair.
Bosley carries healthy hair masques that do wonders for the hair. The Bosley Healthy Hair Moisture Masque provides intense deep conditioning and adds shine to dull, dry, brittle hair. It contains a blend of mango and Shea butters, with Brazilian palm tree and avocado oils. Dry hair is prone to breakage causing hair to fall out. This moisturizing hair mask ensures hair is nourished, shiny and more elastic, with Color Keeper to help prolong and protect hair color.
Bosley Healthy Hair Strengthening Masque provides strength and volume to limp, damaged, or weak hair. It contains Biotin and vegetable proteins making hair stronger and reducing breakage, while chamomile and jojoba extract help to condition hair for soft results. It nourishes hair and also contains Color Keeper to help prolong and protect hair color.
Making the decision as to which line is more suitable for each individual will now be made easier. From now until the end of the 2013, TheBeautyPlace.com will be giving away samples of all four lines of shampoo and conditioner, along with both healthy hair masques to every customer that makes a purchase. These samples will be added to any order placed, free of charge. When completing an order, be sure to include the coupon code: TRYBOSS to receive these free samples.
All of these hair loss products are clinically proven to stop hair loss and promote hair regrowth. It is never too early to start using Bosley, as hair loss can affect men and women of any age. Visit TheBeautyPlace.com today and start defending and reviving your hair strands.