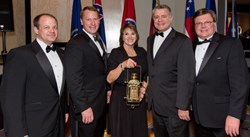 We are already beginning to see the benefits of this investment with tourism numbers trending upward with more hotel rooms sold and more lodging tax revenues collected than at any point in our history
Nashville, TN (PRWEB) November 11, 2013
North Star branding client Virginia's Blue Ridge made history recently when three elected officials – Roanoke City Mayor David Bowers, City of Salem Mayor Randy Foley and Roanoke County Vice-Chair Charlotte Moore -- received the 2013 Southeast Tourism Society's Governmental Tourism Leadership Shining Example Award in recognition of the cooperative tourism marketing that has propelled the region forward. The Virginia's Blur Ridge leaders join the ranks of previous award winners including past Mississippi governor Haley Barbour and Georgia governor Zell Miller. This year's award represents the first time the nomination of a group of officials has been considered.
According to Landon Howard, President of the Roanoke Virginia CVB, the award-winning collaboration began in 2011 when the area partnered with North Star to develop a regional tourism brand.
Leaders at Virginia's Roanoke Valley CVB turned to North Star for a new name and brand to foster collaboration amongst all the players in this five-county destination and establish a connection between the region and the world-famous Blue Ridge Mountains and Blue Ridge Parkway, both of which are regional assets.
"Through the process we realized that visitors don't see city or county lines. The CVB's job is to sell the area as a whole and we can now do it much more effectively," said Lee Wilhelm, Chair of the RVCVB.
The unifying regional brand is based on the mix of metropolitan mountain assets found side by side in Virginia's Blue Ridge. "This is a place where in the space of minutes you can move from beautiful mountains to sophisticated city," stressed Don McEachern, North Star CEO. "The assets are so diverse that all experiences are elevated and the only limits are the sky . . . and the skyline. It's literally the junction of nature and culture." Click to see Virginia's Blue Ridge brand.
Since the brand's rollout, all three governments have signed off on a regional tourism agreement investing three percentage points of the local lodging tax to the RVCVB, adding over one million dollars dedicated to marketing Virginia's Blue Ridge. "This is all about building a regional destination for Virginia's Blue Ridge creating more jobs and increased local revenue. We are already beginning to see the benefits of this investment with tourism numbers trending upward with more hotel rooms sold and more lodging tax revenues collected than at any point in our history," noted Howard.
In 2012 – the year after the brand rolled out – tourism in Virginia's Blue Ridge region generated $730 million in revenue, providing $52 million in state and local taxes and supporting more than 7,200 jobs.
The Shining Example Awards have been a tradition since 1985 and were started by the STS, an organization dedicated to the promotion and development of tourism to its 12 member states of Alabama, Arkansas, Florida, Georgia, Kentucky, Louisiana, Mississippi, North Carolina, South Carolina, Tennessee, Virginia and West Virginia.
North Star is a full-service community branding agency in Nashville, TN with standalone research division. Having worked with more than 170 communities across the nation, North Star is considered an industry leader in helping communities become more competitive. Areas of expertise include local, regional and statewide tourism, economic development, and municipal government.