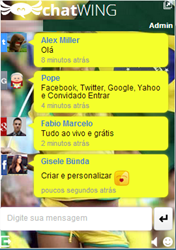 New York, NY (PRWEB) November 12, 2013
New York, NY – Chatwing is going beyond the reaches of the cyberspace by announcing its plan to create a line of custom shirts. This plan has long been discussed by Chatwing website chat software developers, and it is continuously being refined for months. To jumpstart the plan, the team is now gathering t-shirt concepts from various users. Here are some of the gathered concepts:

Cartoonish images – Based on global studies, cartoonish images appeal to large groups of people because of their color hues and designs. Some of the users interviewed by Chatwing Team have suggested that the images must be funny, light-themed, and related to the company's overall vision.
Internet memes – The popularity of memes can be seen in hundreds of websites across the cyberspace. Internet memes convey emotions and they can be used in relaying different messages. Users have suggested that Internet memes can be fused with Chatwing's chat software designs. Additionally, the memes can also be used to heighten the importance of the company's services.
Social Media – A large percentage of users have also suggested that social media is important in the t-shirt designs. The Facebook logo, interspersed with the Chatwing chatroom logo is something that the users are aiming for. This fact has also been gathered in Chatwing Team's official study.
Chatwing chat app company is planning to launch up to 100 T-shirts by January 2014. This plan is still tentative, but the company is now doing all efforts necessary. Interested users can view further updates in the company's social networking accounts, active chatrooms, and blog series.
About Chatwing.com
Chatwing.com is a company that has brought innovation to the modern chat widget. Operating for more than five years now, Chatwing and its team of developers have dozens of ideas ready to be introduced to the public. The Chatwing chat app is an easy-to-use online tool that can help web users interact with each other and can also generate continuous traffic. Chatwing will always be a "freemium" application for everyone.