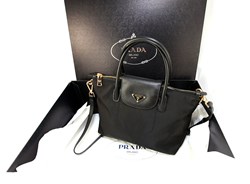 (PRWEB) November 11, 2013
The chill in the air is a daily reminder that the holidays are quickly approaching. Every woman knows that nothing says, "Merry Christmas," quite like Prada under the tree! Couture fashion does not have to break the bank, though. Our Prada items are purchased directly from the Prada Space Outlet in Italy, which allows us to pass on a savings to our customers of up to 50%. Check out some of the best Prada items for this holiday season at Designersunglassesgoodies.
Prada Handbags
For decades Prada has been a headliner in luxury handbags. It is a name envied and desired, and for good reason too. Prada handbags continue to feature timeless designs that physically and fashionably last and last. Most recently the Prada Nylon Bag has made a splash with their practical, versatile design that can quite literally complement any style and occasion. The Prada Nylon Bag available at Designersunglassesgoodies comes in a variety of colors and styles to fit the shopper's personal look.
Prada Tote
Another hit with price conscious shoppers has been the super practical yet timelessly elegant Prada tote. These large bags are designed for when a small handbag just will not do. Especially popular at Designersunglassesgoodies is the ultra-feminine Tessuto Large Shopping Tote Bag in pink.
Prada Sunglasses
Ever popular and always practical are our Prada sunglasses. The Miu Miu line offer retro designs in super fun colors. These are the perfect addition to any collection needing a little touch of whimsy.
At DesignerSunglassesGoodies all of our Prada merchandise is 100% authentic guaranteed. Each handbag purchase comes with an authenticity card, Prada dust bag and is packaged in original Prada packaging and Prada box.
About DesignerSunglassesGoodies
With over a decade of experience, DesignerSunglassesGoodies specializes in buying, selling, and consignment of authentic merchandises. Buy, sell or consign favorite luxury designers such as Gucci, Fendi, Prada, Miu Miu Tom Ford and more. Visit DesignerSunglassesGoodies online at http://www.designersunglassesgoodies.com.