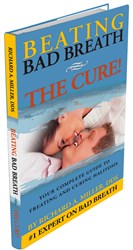 Beating Bad Breath – The Cure! is the first book to detail a complete cure for bad breath (halitosis).
Falls Church, VA (PRWEB) November 20, 2013
Dr. Miller, author and director of the National Breath Center has been a pioneer in the treatment of breath malodor since 1990. As the #1 expert on clinical halitosis and its cure, Dr. Miller has lectured at 9 major dental meetings, and 22 seminars around the world. He has taught over 10,000 dentists the TOTAL CURE.
Beating Bad Breath-The Cure! is the first book to detail a TOTAL CURE for bad breath (halitosis) – one that Dr. Richard Miller guarantees with treatment at the National Breath Center in Falls Church, Virginia. This cure is not dependent on mouthwash or toothpaste, and does not need gums or mints to alleviate odors.
In 1993, his original book Beating Bad Breath, pointed the way to a cure. Now, after 20 years and having seen thousands more patients at the National Breath Center with a 99% CURE rate for halitosis, Dr. Miller describes the methods used to eliminate bad breath for life – the TOTAL CURE.
Beating Bad Breath-The Cure! contains the most complete information on bad breath available to the public. It includes such topics as Why Current Treatment Does Not Work; Myths About Halitosis; What Causes Bad Breath; The Social Dilemma; the professional Total Cure; and, the Beating Bad Breath Protocol, clinically tested at the National Breath Center to be a proven at-home technique to successfully manage breath malodor and regain confidence when professional treatment is not possible.
According to the National Institute of Dental Research, over 60 million Americans have bad breath at some point; and many of these have a chronic, offensive odor that can be socially debilitating. In addition, Americans spend more than a billion dollars each year for bad breath cover-ups that don't work.
From all over the Untied States and 27 countries, people suffering from chronic bad breath have been travelling to see Dr. Richard Miller. Patients at the National Breath Center have experienced a 99% cure rate that does not depend on oral products for results. With the publication of Beating Bad Breath – The Cure, millions of people can now learn how bad breath can be cured.
Every day at the National Breath Center, patients relate horror stories of the effects of bad breath – lost promotions because of chronic halitosis, offending co-workers, or lost sales because of offensive breath odors. Fiancés, husbands, and wives urge their partners to cure their breath problems. But most heart wrenching are the patients who are so desperate to find a cure for their halitosis that they have undergone gum surgery or had teeth extracted in the belief that it will cure their problem. People who have tried every treatment arrive at the National Breath Center as a last resort. These are the reasons Dr. Miller has totally rewritten his original book – to help people cure their bad breath.
For more information, contact the author through our website, the National Breath Center at http://www.beathalitosis.com. It is now possible to cure bad breath and create life-long fresh breath that is sustainable for life.