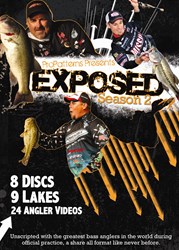 Yankton, South Dakota (PRWEB) November 11, 2013
According to Mark Lassagne, Editor-in-Chief of Bass Angler Magazine, this opportunity to "cross promote and share audiences provides a great opportunity for angling enthusiasts. Unless you advertise in other media, word won't get out as fast as it could about your product."
Bass Angler Magazine typically features 30 articles, which nearly doubles the content of most fishing magazines. "Like ProPatterns," Lassagne says, "Bass Angler Magazine focuses on education and entertainment, with the goal of helping anglers learn and catch more fish." According to Lassagne, Bass Angler Magazine dedicates as much page space as possible to feature stories, keeping its advertisement space to about half that of other periodicals.
Whereas angling enthusiasts don't necessarily have to be "tech savvy" to catch bass, according to Lassagne, most anglers are. Lassagne has seen steady growth in online users downloading the Bass Angler Magazine app and plans to expand the tools available to online users as the market continues to grow. According to ProPatterns, Inc. President and CEO Chad Ekroth, "As a website that prides itself in offering education and entertainment, we at ProPatterns couldn't be happier about this opportunity for our members to broaden their online experience with a free electronic issue of Bass Angler Magazine "
Lassagne also stresses the importance of this cross-promotional relationship because "while Bass Angler Magazine and ProPatterns provide different platforms, both have that same mission of providing great entertainment and education."
A fan of the Exposed series, Lassange tells ProPatterns, "I love watching the videos and seeing the pros out practicing. It's unique, and it's real. Here's a series that offers viewers an inside look at how the pros work, getting in the boat with those pros, and getting into their heads as they practice and study the waters. This is a chance 99% percent of fans couldn't experience without getting on the ProPatterns website."
ProPatterns, Inc. offers two levels of subscription, a free Social membership and an Elite subscription membership. Now until the end of November, ProPatterns offers social members free shipping on the purchase of Season 1 or Season 2 of Exposed. Each DVD set of the educational series of Exposed contains over 16 hours of behind-the-scenes footage of 24 professional anglers practicing and studying tournament waters across North America, offering insight and tips for both seasoned and amateur angling enthusiasts.
Social members who purchase either DVD set will also have their social membership status upgraded to an Elite subscription for 30 days. The Elite membership unlocks all features of the http://www.ProPatterns.com website including access to the online archives of the Exposed series and the upcoming online release of Season 3 of Exposed, which premiers in January of 2014.
About ProPatterns, Inc. and Exposed:
ProPatterns, Inc. is a leader of angling education offering a variety of fishing tips and membership services online. Information is gathered from various sources and shared with members in a variety of ways. The Exposed video series, for example, gains all of its integrity from an alignment with the biggest names in the bass fishing industry including professionals who fish with BASS, FLW, and PAA. Cooperation from the anglers and their willingness to share is the catalyst for the growth of this series.
The company is based in Yankton, South Dakota, home of CEO and President Chad Ekroth. Ekroth's background includes a computer science degree and business experience involving several successful startups. When not tending to business, Ekroth spends his time tournament fishing and engaging in other industry relations including a long time commitment to B.A.S.S. Nation as a 25 year member and competitor.
In addition to Exposed the company provides online fishing journals, payday opportunities, sponsorship opportunities, and a variety of other services including the new enhanced Fantasy Fishing competition which provides all members a chance to win prizes.
Visit http://www.ProPatterns.com today to receive all of the latest information about the Exposed videos series and to learn more about all of the member services available.