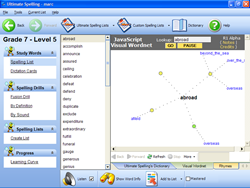 Words that stumped spellers included: cynosure, diplodocus, jicama, pekoe, witloof and totipotency.
New York City, NY (PRWEB) November 17, 2013
The e-learning company eReflect, developer of Ultimate Spelling software, recently shared with its readers words used in the latest Scripps National Spelling Bee. The blog post, published on September 19th, covers some of the problem words and winning words from competitions past and present.
The Scripps National Spelling Bee began in 1925 as an annual spelling bee in the United States. Run on a not-for-profit basis by the E.W. Scripps Company, contestants from around the United States, as well as students from abroad, compete to win a cash prize, an engraved loving cup trophy and other prizes.
The 2013 Scripps National Spelling Bee included 281 contestants with championship finals taking place on May 30, 2013. 13-year-old Arvind Mahankali won by correctly spelling "knaidel," a word for leavened bread, whose etymology traces back to German-derived Yiddish.
In the blog post, the Ultimate Spelling editor included a list of words that knocked out contestants in the most recent competition. Words that stumped spellers included: cynosure, diplodocus, jicama, pekoe, witloof and totipotency.
According to the Ultimate Spelling editor, readers who are working to learn to spell in English know that this skill takes practice and dedication to master. Looking through words used in the last national spelling bee may offer an opportunity to practice spelling and pronunciation skills, and present people with a challenge and a reason to improve their own skills.
Ultimate Spelling software is the industry-leading spelling improvement software for kids, and is an evidence-based learning system that does more than help children learn to spell; the software also offers a full educational resource for improving all aspects of literacy.
According to Ultimate Spelling, the software may be used to help kids improve their own spelling as an alternative to spelling lists and time-consuming tests and provide the foundation for children to one day compete in a national spelling bee.
For more information about how Ultimate Spelling software can improve spelling performance for you and your family, please visit the official website at http://www.ultimatespelling.com.
About Ultimate Spelling™
Ultimate Spelling provides a modern and easy to use spelling software that has been designed with one goal in mind – making children want to learn.
It is a fast and easy way to master even the most complicated spelling, without the need to write long lists or complete boring tests.
In fact, Ultimate Spelling provides more than just spelling help. It is a complete educational resource that boosts all level of a child's literacy.
Containing a personal computer tutor, Ultimate Spelling is the most realistic step-by-step guide to flawless spelling ability.