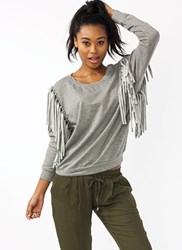 The sweatshirt has truly grown up this season and become a piece you can wear anywhere.
Los Angeles, CA (PRWEB) November 14, 2013
GoJane.com, an online boutique that brings runway chic to fashion forward young women, today announced it has updated its collection with a line of fashionable sweatshirts. Sweatshirts were huge at New York Fashion Week 2013, so GoJane immediately set out to update its website to accommodate the new trend. Now, GoJane offers a full range of stylish sweatshirts, including cropped, short sleeved, ruffled, textured and elastic.
GoJane's fashionable sweatshirt line also includes fun sheer, printed and embellished looks that are easy to dress up for work and other important engagements. That's in part because the classic heather gray sweatshirt has gotten updated this year with accents like spikes, fringe and faux fur. But that's not to say shoppers are limited to gray. GoJane also offers trendy sweatshirts in burgundy, gold, moss green, olive and tomato.
At the same time, the sweatshirt remains a style that can pull off playful messaging, like, "What," "Boss," and "Sugar N Spice," as well as dynamic imagery, such as cats, carousels and florals – all of which shoppers will now find from GoJane.
"The sweatshirt has truly grown up this season and become a piece you can wear anywhere," says Emily Devine, GoJane stylist and blogger. "This more sophisticated style is reflected in the range of Fashion Sweatshirts GoJane now offers. We hope our customers have fun experimenting with this new trend. The scope is astounding – from somewhat casual to truly refined. We even have a few cropped and net offerings for our more daring customers."
GoJane clothing sizes typically run from Small to Large, or about 1/2 to 11/12. Please visit GoJane.com for more details about specific items.
For more information about GoJane Fashion Sweatshirts, visit: http://www.gojane.com/shop-by-category-tops-fashion-sweatshirts.html.
About GoJane.com
GoJane is made up of a dedicated team of fashion fanatics who are committed to connecting customers with their own unique fashion sense. For more than 14 years, GoJane has been devoted to elevating style and self-perception while keeping fashion fun and inclusive of all trends. GoJane's team of buyers is constantly on the lookout for the next must-haves. GoJane adds tons of new styles every day to keep its shoppers at the forefront of fashion. Why wait when you can find something new at GoJane.com?
###