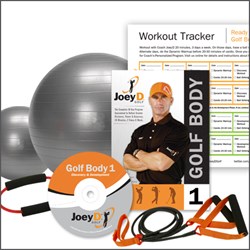 Every sport or hobby places certain — and distinct — requirements on the body. The better your body is at meeting those requirements, the better you're going to perform. -Coach "Joey D" Diovisalvi
Jupiter, FL (PRWEB) November 15, 2013
After 14+ years work with PGA Tour Professionals, Coach "Joey D" Diovisalvi knows what it takes to help top professionals play their best. Not surprisingly, the strategic approach to golf fitness training and exercise, plus many of the actual techniques, can be powerful keys for amateurs as well.
According to Coach Joey D, "From beginner to touring professional, if you train your body in a golf-specific way and with an understanding of what the sport of golf requires, you will become a better golfer. There's no 'secret' — it's just the common sense of the Golf Body."
Joey D's hardcover classic "Fix Your Body, Fix Your Swing" and follow-along Golf Body 1 home video golf training system have given golfers around the world access to the instruction, fitness programs, and self-assessments previously unavailable to average players.
More information about Coach Joey D's approach to golf-specific fitness and training is available through his blog at http://joeydgolf.com.
Coach Joey D is a Tour-level golf biomechanics coach. He currently spends over 20 weeks each year on the PGA Tour. He makes his home in Jupiter, FL where he and his staff offer golf fitness and training programs at the Joey D Golf Performance Center.