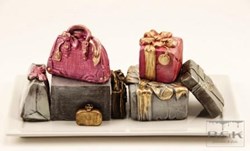 B&K's Holiday Shopping Vignette is an elegant gift choice this season.
Los Angeles, CA (PRWEB) November 12, 2013
B&K Chocolate & Cake is revolutionizing the cake industry by merging masterful cake art with the best work of gourmet chocolatiers. B&K Chocolate & Cake got their start working for Lady Gaga, creating personal edible art gifts that were shipped nationwide. They have also produced delicious event favors for several events, including "Evening of the Stars," hosted by Elton John, Roland Emmerich, Jane Lynch, and Channing Tatum, among others.
For most of B&K's existence, their hand-painted edible art gifts were only available to private clients. Recognizing increasingly high demand for their products, B&K developed their own line of chocolate & cake gifts. Customers from all over the country can now order these luxury gifts online. With their new online catalogue and a storefront launching in Los Angeles at the end of the year, B&K Chocolate & Cake is poised to take their revolutionary edible art to the mainstream.
Using tempered couverture chocolate as the sole decorating element, their cakes are not only beautiful but they are paired with fresh ingredients that are generally created by chocolatiers, like smooth truffle ganaches, fleur de sel caramel, and various nut brittles. These gourmet cakes are shipped fresh, never frozen, unlike traditionally shipped cakes, and always come in their signature, high end gift packaging.
Specializing in life's little luxuries and guilty pleasures, such as handbags and contemporary art pieces, B&K Chocolate & Cake approaches the art of cake as the pursuit of total pleasure. Recognizing the popularity of custom cakes, and wanting to bring that high level of art to everyone, B&K created this catalogue so customers could purchase online and have it shipped almost immediately.
Their Holiday Shopping Vignette is the perfect gift for those who want to bring home the magic of the holidays. For a limited time only, this festive chocolate and cake vignette is filled with their signature dark chocolate cake, dark chocolate mint ganache, and a smooth milk chocolate exterior.
Now that November is here, it is time to start thinking about those perfect holiday gifts and nothing is more perfect than a B&K product, delivered in its high end gift packaging. B&K's Holiday Shopping Vignette is an elegant gift choice this season, for $165!
About B&K Chocolate & Cake: Co-founded by Cory Pohlman, featured for her work in the LA Times, Wall Street Journal, and seen on Halloween Wars, Sugar Dome and Access Hollywood, B&K Chocolate & Cake specializes in gourmet chocolate & cake art pieces, corporate gifts, event favors and its concierge services. Their Facebook page can be found here.