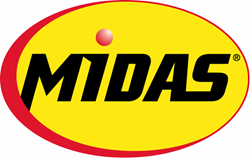 "We're seizing an opportunity to do what no one else in our industry is doing," said Brian LePorin, Midas' Director of Marketing.
Palm Beach Gardens, FL (PRWEB) November 11, 2013
As Midas re-launches its iconic 56-year old brand with new creative across all channels, social media innovation is at the nerve center of the effort. While new TV spots have introduced the wise-talking golden hand to position Midas as an irreverently funny, yet trustworthy partner to drivers, Midas is also utilizing social media platforms to deliver a steady stream of entertaining content that keeps the brand top-of-mind for consumers, while delivering best-in-class customer support.
"We're seizing an opportunity to do what no one else in our industry is doing," said Brian LePorin, Midas' Director of Marketing. "Midas is treating social media as a true media channel, with the same demand for creative excellence as our broadcast channels like television. Most people aren't using Facebook to learn how to measure tire tread depth. For the most part, social media users want to be entertained, inspired, and rewarded. If Midas can deliver the kind of content users truly want, our brand wins."
First Month Delivers Promising Results
In its first month, Midas' new social media strategy has yielded a greater than 10x increase in Facebook engagement rates, and has landed Midas in humorous high-profile Twitter conversations with consumer brands like CHEEZ-IT. A large-scale Facebook campaign is planned for early 2014 that will build community volume.
New Social Media Agency Partnership
Midas has partnered with start-up social media agency, LionMaus Media, to strategize and deliver the program. "We share a core belief that for social media to be an effective channel, it has to be real-time and deliver a high caliber of creative down to every last Tweet," said LePorin. "LionMaus is working with our other agency partners and internal teams so that we can deliver a rock-solid program that drives the Midas business forward."
# # #
About Midas
Founded in 1956, Midas is a worldwide leader in automotive service. One of the world's largest providers of automotive service, brakes, maintenance, tires, exhaust, steering, and suspension services Midas has nearly 2,250 franchised, licensed and company-owned shops in 13 countries, including nearly 1,400 in the United States and Canada. Midas became a wholly-owned subsidiary of TBC Corporation on April 30, 2012.
Midas and The Midas Touch are either registered trademarks or trademarks of Midas in the United States and/or other countries. The names of actual companies and products mentioned herein may be the trademarks of their respective owners.