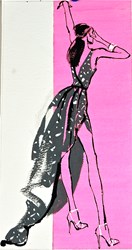 Fashion and art go hand in hand. If you have a fashion or art enthusiast on your gift giving list this season, my prints are the perfect present. I work with many art mediums and offer a wide variety of illustration in my collection. - Ahlfield
Baltimore, MD (PRWEB) November 19, 2013
Barbara Tyler Ahlfield announces fashion prints available for sale this holiday season. These prints capture the many moods of fashion with incredible detail, making it the perfect gift for any fashion forward or artistic friend.
"Fashion and art go hand in hand. If you have a fashion or art enthusiast on your gift giving list this season, my prints are the perfect present. I work with many art mediums and offer a wide variety of illustration in my collection," stated Barbara Tyler Ahlfield.
The recent announcement comes in light of a new fashion blog from the well-known fashion illustrator. The new blog will give visitors the inside experience Ahlfield has had in her successful 30 year career. Posts will cover personal experiences in the fashion and art realm, every day inspirations, fashion tips and insight on the latest fashion trends.
"As I move forward with my collection for the New York ArtExpo 2014, I wanted to find ways to connect with fashion and art enthusiasts everywhere. As I gear up for my exhibit this Spring, I find my blog and newsletter will help me continue to engage with clients as well as provide updates on my latest collection," continued Ahlfield.
The newsletter is available to anyone who is interested and will provide monthly updates from Ahlfield, feature blog posts and available prints for purchase. Interested parties can sign up for the newsletter via the fashion illustrator's website or Facebook page.
For more information on Barbara Tyler Ahlfield and her illustrations, please visit: http://www.fashionillustrationandmore.com/.
About Barbara Tyler Ahlfield:
Barbara started drawing at the age of two and was soon decorating her bedroom walls with crayon fashion drawings. As a child she was fascinated with the glamorous fashion she saw in the old black and white films on Television as well as the formal portraits she studied during children's classes at the Rochester Memorial Art Gallery. Following college, she united her loves of art and fashion into a career that spanned 30 years as one of the leading, award winning retail fashion illustrators in the country.
The archive of her illustrations is one of the few existing collections of American fashion illustration over the last quarter century and offers a retrospective of the American woman's changing sense of style as well as changing illustrative styles. On any given day her full page illustrations appeared in many of the major newspapers in the country including the New York Times, Chicago Sun Times, Washington Post, Philadelphia Inquirer, etc. showcasing top American fashion designers for the major US department stores such as Lord and Taylor, Nordstrom, Dillards, John Wannamaker and many more. For more information, please visit: http://www.fashionillustrationandmore.com/.