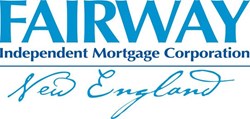 Auburn, MA (PRWEB) November 13, 2013
Fairway Independent Mortgage Corporation, one of the country's largest mortgage companies, has embraced their commitment to support US active military and veterans with a dedication to serving those who serve with excellence. In celebration of Veterans Day, Fairway branch offices nationwide will be honoring active and retired military during Fairway's home-giveaway week, in which Fairway will be presenting four mortgage-free homes to wounded warriors.
Locally, Fairway's Auburn branch is supporting Veterans by supporting the Boot Campaign. Branch Manager, Bill Murphy says it's important that we give back to the men and women that give so much to us. It is our job now to serve them the way they have served and protected our homeland, by giving them a place to call home.
The homes will be awarded in conjunction with four Fairway Boot Camp events held around the country in the days leading up to Veterans Day on November 11th. "The four veterans receiving mortgage-free homes in November are all American heroes," said Louise Thaxton, Fairway's military mortgage director. "By presenting these men with keys to their new homes, Fairway is expressing its gratitude for their military service. The fact that we will award the mortgage-free homes just ahead of Veterans Day is timely, and makes the events even more significant. "
Fairway Boot Camp events are designed to train local mortgage professionals and real estate agents on how to best help active U.S. military service members and veterans overcome their unique challenges to buying a home. Fairway's Military Mortgage Specialist (MMS) and Certified Military Residential Specialist (CMRS) certification programs train housing professionals to pay careful attention to the home purchase needs of active duty and retired military customers. To date, Fairway has trained more than 1,500 professionals nationwide under their MMS and CMRS programs.
Boot Camp spokesman and NY Times best-selling author Sean Parnell is an advocate for Fairway's programs and plays an integral role in the Boot Camps and home-giveaway presentations. Parnell, a retired Army Ranger and Purple Heart recipient, wrote the best-selling novel Outlaw Platoon about his experiences serving for the U.S. military in Afghanistan.
One of the recipients of the mortgage-free homes was a member of Parnell's "Outlaw Platoon" army unit and is featured in the book. Decorated Army Veteran Gordon Campbell, his wife and their two daughters will be in their new, mortgage-free home in Muncie, Indiana before the holidays. "I can't think of a more deserving recipient than Gordon, who is truly an American hero. This mortgage-free home, an extraordinarily generous gift, will forever change his family's life. I'm thrilled to take part in presenting him the key to their new home," said Parnell.
Fairway Independent Mortgage is a proud supporter of the American military and has helped thousands of active military personnel and veterans nationwide buy homes. Fairway employees have pledged several hundred thousand dollars in donations to help provide mortgage-free homes to veterans in association with the Boot Campaign, a non-profit organization supporting returning American military troops, and made possible through the Military Warriors Support Foundation's Homes 4 Wounded Heroes program.
"'Commitment to Serve' is a Fairway core value and our employees have demonstrated an extraordinary degree of support for our military men and women," said Fairway CEO Steve Jacobson.
After acquiring distressed properties from financial institutions, the Military Warriors Support Foundation uses funds provided by Fairway to provide accommodations and modifications for the specific heroes. In addition to the home, the families receive three years of family and financial mentoring. Combat wounded veterans or unmarried Gold Star spouses of Operation Enduring Freedom or Operation Iraqi Freedom are encouraged to apply for a mortgage-free home by visiting http://www.militarywarriors.org/openhomes.
About Fairway Independent Mortgage Corporation
Founded in 1996 by Steve Jacobson and Dean Anderson, Fairway Independent Mortgage Corporation is a mortgage banker headquartered in Sun Prairie, Wisconsin. The company has 145 locations and approximately 1,600 employees nationwide. The corporate vision is to foster relationships and create a team atmosphere, empowering offices to operate autonomously in their day-to-day operations, while still maintaining strict compliance and consistency across the board. Fairway Independent Mortgage Corporation provides all necessary support in the areas of personnel, accounting and compliance. For more information, please visit http://www.FairwayIndependentMC.com.
The Boot Campaign
The Boot Campaign is a national 501c3 nonprofit that is dedicated to showing tangible appreciation of our active military, raising awareness of the challenges they face upon return and supporting their transition home. The Boot Campaign cultivates awareness, promotes patriotism, and provides assistance to military, past and present, and their families. Through the sale of its signature military combat boots, general public donations, and corporate sponsorship, the Boot Campaign operates five distinct initiatives -- Jobs, Housing, Wellness, Urgent Assistance and Family Support-- that are caring for military personnel, past and present, healing from a variety of physical and emotional combat wounds, embodying the campaign motto that, "When They Come Back, We Give Back". http://BootCampaign.com
Military Warriors Support Foundation
Military Warriors Support Foundation is a 501(c)(3) non-profit charity, founded by Lt. General, Leroy Sisco, USA (Ret), in 2007. Their Mission is to provide support for our nation's combat wounded heroes and Gold Star Families as they transition out of the military and into their new civilian life. This is a very fragile time for these heroes, and their families, and it is the foundations goal to provide programs that facilitate a smooth and successful transition. These programs include home donation, academic and employment assistance, as well as recreational activities.
MEDIA CONTACT:
Mary McGarity
Strategic Vantage Mortgage Public Relations
(203) 513-2721
MaryMcGarity(at)StrategicVantage(dot)com
LOCAL FAIRWAY CONTACT:
William B. Murphy
Fairway Independent Mortgage Corporation
508-407-8300
wmurphy(at)fairwaymc(dot)com
SOURCE Fairway Independent Mortgage Corporation