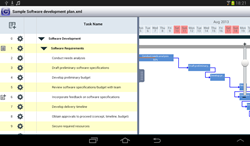 Mystic, CT (PRWEB) November 21, 2013
Gantt Pro app is extremely popular amongst iOS users and its huge popularity and increasing user demand encouraged i2e Consulting to bring the app to Android and Windows platform. Within just a few days of launch, the app has received encouraging reviews from the niche Project Management community.
Gantt Pro is a unique Project plan reader that has made it a cakewalk for Project Managers to manage their Projects, on the go. Users can easily import and view their Microsoft Project Plan with the help of this app.
This project management app allows the viewing of entire project details in a beautiful Gantt chart. The Gantt is easy to use and gives a cursory overview about the status of the project. Gantt Pro for Android and Windows have 4 task links namely, Finish to Start (FS), Start to Start (SS), Finish to Finish (FF) and Start to Finish (SF).
The free version of the app allows the use of 1 sample plan and 2 other plans which can be imported via Email, Dropbox and Google Drive in Android & Email, Hard Disk and SkyDrive in Windows. The tasks can be classified on the basis of an in-built filter field, condition and value. Likewise, the entire project can also be viewed in Daily, Weekly and Monthly mode. The paid version of the app is entirely ads free, allows unlimited plan import and gives a plan delete option.
Google Play link:
https://play.google.com/store/apps/details?id=org.i2e.gantt&hl=en
https://play.google.com/store/apps/details?id=org.i2e.planning&hl=en
Windows store link:
http://apps.microsoft.com/windows/en-us/app/gantt-pro/b2bfabae-a980-4413-b4bf-415a60e04d24
About i2e Consulting:
Established in 2008, i2e Consulting is a superior software solutions company. Developing software applications, web solutions and new products, we have created more than 30 large and small business solutions for clients all over the world. The motto "Ideas to Execution" is the driving focus behind our company, where we raise our client's expectations to transform ideas into software systems with the ultimate goal of 100% customer satisfaction.