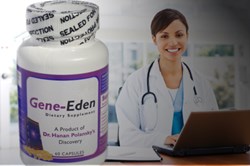 With so many environmental factors and physical conditions that can lower the efficiency of the immune system, we recommend that individuals take a natural remedy that's been proven effective against latent viruses. – Mike Evans, polyDNA
Rochester, NY (PRWEB) November 14, 2013
Herpes Zoster is a condition caused by the reactivation of the Varicella Zoster Virus (VZV). The major risk factor for a herpes zoster outbreak is increasing age (1). As one ages, certain immune cells, called T-cells, begin to lose their effectiveness against VZV. "With increasing time after varicella infection, there is a reduction in the level of T-cell immunity to VZV (1)."
However, a study listed other factors, in addition to aging, which harm the immune system, and trigger a VZV outbreak. The factors listed are organ transplants, receiving immunosuppressive therapy (usually drugs that lower the efficiency of the immune system), lymphoma, leukemia, or becoming infected with HIV (1).
Over the age of 60, more women than men end up with a herpes zoster outbreak. In addition, more white people than black are affected by VZV. Those who have a family history of herpes zoster outbreaks also have a higher chance of being afflicted (1). Moreover, "There are an estimated 1 million cases (of herpes zoster) each year in this country. Anyone who has recovered from chickenpox may develop (a herpes zoster outbreak)," according to the CDC on a page last updated on January 10, 2011 (2).
"With so many environmental factors and physical conditions that can lower the efficiency of the immune system, we recommend that individuals take a natural remedy that's been proven effective against latent viruses." – Mike Evans, polyDNA
Everyone ages, and there are many ways that an individual's immune system can be harmed. polyDNA, therefore, recommends Gene-Eden-VIR to older individuals to help the immune target the latent VZV.
In a post marketing clinical study published on August 12, 2013 in the medical journal Pharmacology & Pharmacy in a special edition on Advances in Antiviral Drugs, researchers showed that Gene-Eden-VIR is safe and effective (3). Additionally, up to 70% of those studied reported a decrease in viral symptoms, and users experienced an increase in overall health (3).
Each ingredient of Gene-Eden-VIR was chosen through a scientific approach. Scientists scanned thousands of scientific and medical papers published in various medical and scientific journals around the world to identify the safest, most effective natural ingredients that target the latent form of herpes. (3)
To learn more about Gene-Eden-VIR, visit http://www.gene-eden-kill-virus.com. All orders of Gene-Eden-VIR are completely confidential, and no information is shared or sold to any third party. Privacy is assured.
Reference:
(1) http://www.nejm.org/doi/pdf/10.1056/NEJMcp1302674
(2) http://www.cdc.gov/shingles/about/overview.html
(3) http://www.scirp.org/journal/PaperInformation.aspx?PaperID=36101
polyDNA is a biotechnology company that develops dietary supplements using the unique scientific method developed by Dr. Hanan Polansky, which is based on Computer Intuition.
In addition to his unique scientific method, Dr. Polansky published the highly acclaimed scientific discovery, called Microcompetition with Foreign DNA. The discovery explains how foreign DNA fragments, and specifically, DNA of latent viruses, cause most major diseases.
polyDNA developed Gene-Eden-VIR , an antiviral natural remedy that helps the immune system kill latent viruses.