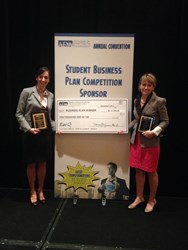 Syracuse, NY (PRWEB) November 12, 2013
From November 7th through the 10th, members of the EarQ team attended the 2013 Academy of Doctors of Audiology (ADA) Convention in Bonita Springs, FL.
The team exhibited the company's unique programs designed to better connect patients to practices, as well as supported private practice ownership by sponsoring the ADA Student Business Competition and presenting practice management tools.
EarQ chose to sponsor the student business plan competition in order to promote future industry leaders. Andrew Hebert, EarQ's vice president, served as one of the judges. Alongside Hebert was a panel of industry professionals, including Keith Lewis, vice president of business development for ReSound.
The business plans were judged on their creativity, feasibility, completeness, cohesiveness, professionalism and polish. The grand prize winner received a $5,000 ADA cash grant to be used to develop their business objectives and skills in order to strengthen their ability to help more people overcome hearing loss.
To round out the event, Cliff Carey, EarQ's communications director, lead a discussion on exit strategies and succession plans on November 8th.
For more information, contact EarQ at info(at)earq(dot)com.
***
About EarQ:
EarQ strives to revolutionize the hearing healthcare industry through innovative business and marketing practices, national public awareness efforts and advocating for excellence in private patient care. Through its nationwide hearing healthcare locations, EarQ will work to shatter the stereotypes surrounding hearing loss and empower the millions of Americans who suffer from it to take control of their hearing health.
http://www.earq.com
Like us on Facebook
Follow us on Twitter