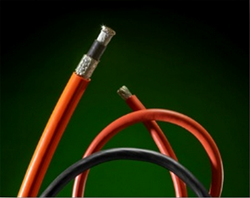 Lightweight cable constructions with sustained performance have become a necessity in the automotive industry.
Exton, PA (PRWEB) November 12, 2013
AGC Chemicals Americas Inc. has announced an advanced insulation material option for HEV/EV cable. AFLAS® 150E fluoroelastomers outperform XL-PE cable systems, providing superior chemical resistance, flexibility and high temperature performance (200°C versus 150°C). Cable constructions using AFLAS are thinner, lighter weight and more flexible than those using XL-PE.
AFLAS fluoroelastomers are ideal for HEV/EV cable for automotive applications that need to be lightweight and continue performing reliably at high temperatures. The material is compatible with aluminum and copper wire cores, is non-flammable, vibration resistant and flexible.
"Lightweight cable constructions with sustained performance have become a necessity in the automotive industry," said Drew D'Agosta, AGC Sales and Marketing Manager for the AFLAS line. "We are pleased to be able to offer a more durable, flexible, high-temperature material that allows for thinner wire insulation at equivalent performance levels."
About AGC Chemicals Americas Inc.
AGC Chemicals Americas Inc. is a wholly owned subsidiary of Asahi Glass Co. Ltd., a $15 billion multinational corporation and one of the world's largest manufacturers of glass, electronic displays and chemical products. The company was formed in 2004 through the merging of sister companies Asahi Glass Fluoropolymers USA and AGA Chemicals. Headquartered in Exton, Pa., AGC Chemicals Americas maintains manufacturing operations in nearby Thorndale, Pa., and warehouses located throughout North America.
http://www.agcchem.com
###