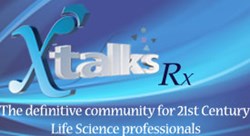 (PRWEB) November 19, 2013
Regulators of apoptotic cell death are potentially valuable targets for oncology and autoimmune disease. Several promising mechanism-based compounds that directly target the molecular components of apoptosis pathways are in clinical development. It is well known that inhibition of apoptosis occurs in most cancers and can occur by a variety of methods such up regulation of anti-apoptotic factors. Until now, profiling the key components of apoptosis has been limited by the laborious and semi-quantitative method of IP-western blot which is not amenable to multiplexing and is ill suited for clinical studies from limited sample amounts.
The ApoptosisMAP is a fully validated quantitative multiplex immunoassay that can quantify apoptotic biomarkers in clinical trials. It can support the pharmacodynamic action of investigational agents with companion diagnostic implications for identifying patients most likely to respond to a particular apoptosis inducer or other chemotherapeutic regimes. Join Dominic Eisinger, PhD, Director of Strategic Development, from Myriad RBM for this discussion on quantitative profiling using Myriad RBM's Multi-Analyte Profile (MAP) platform.
For more information about this online seminar or to visit this webinar's homepage, go to http://xtalks.com/Multiplex-ApoptosisMAP-quantitative-profiling.ashx
Xtalks, powered by Honeycomb Worldwide Inc., is a leading provider of educational webinars to the global Life Sciences community. Every year thousands of industry practitioners (from pharmaceutical & biotech companies, private & academic research institutions, healthcare centers, etc.) turn to Xtalks for access to quality content. Xtalks helps Life Science professionals stay current with industry developments, trends and regulations. Xtalks webinars also provide perspectives on key issues from top industry thought leaders and service providers.
To learn more about Xtalks visit http://www.xtalks.com
Contact:
Michelle Tran, Marketing Manager
+1 (416) 977-6555 ext 224
mtran(at)xtalks(dot)com