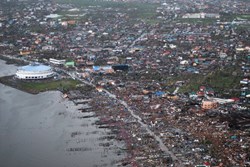 Sarasota, Fla. (PRWEB) November 12, 2013
International disaster relief organization, ShelterBox, is working in the Philippines following what meteorologists are calling the most powerful storm ever to make landfall.
The charity has provided humanitarian assistance following more than 200 disasters in over 90 countries. ShelterBox instantly responds to typhoons, earthquakes, floods, tsunamis, and other disasters or conflict by delivering emergency shelter and other humanitarian supplies. Each iconic green ShelterBox contains a disaster relief tent for an extended family, stove, blankets and water filter, among other tools for survival.
With winds of 195 mph and gusts up to 235 mph, Super Typhoon Haiyan (known locally as Yolanda), which struck the Philippines Friday, is thought to be the largest storm ever recorded, surpassing Hurricane Camille in 1969. More than 10,000 people are feared dead and thousands more left homeless.
ShelterBox currently has teams working in the country, responding to both the typhoon and the 7.2 magnitude earthquake that hit Bohol on October 15. The teams will focus efforts in three of the badly affected regions, including Tacloban, Cebu, and Bohol.
MORE ON SHELTERBOX'S RESPONSE:

So far, ShelterBox has committed sufficient aid for 4,000 families in the Philippines
Supplies previously positioned at Clark Air Base on Luzon have all been deployed
Additional aid positioned in neighboring countries are en route to impacted areas
For the latest information, visit http://www.shelterboxusa.org/typhoon
Media Opportunity: ShelterBox responders are available for interviews. B-roll footage of box contents and images of the impacted disaster zone are available upon request.
Donations: Tax-deductible donations to ShelterBox USA can be made online at http://www.shelterboxusa.org; by mail to 8374 Market St. #203, Lakewood Ranch, FL 34202; by texting SHELTER to 20222 to make a $10 donation; or by calling (941) 907-6036.
# # #