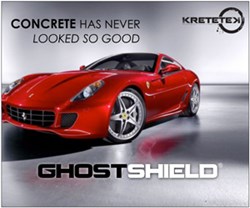 In a crowded industry KRETETEK Industries stands out as a pioneer, an innovator, and a fully competent manufacturer of concrete sealing products designed specifically for the consumer.
(PRWEB) December 05, 2013
KRETETEK Industries manufactures concrete sealers and sealing products marketed to engineers, architects, and contractors designed to provide long-lasting protection for their concrete projects. An innovator and leader in a crowded industry, KRETETEK offers a wide range of high-quality products exhaustively tested to ensure optimal performance. Many of the products in the GHOSTSHIELD product line cannot be found from any other manufacturer, leaving KRETETEK standing foremost in the industry.
The GHOSTSHIELD product line manufactured by KRETETEK is the most comprehensive set of concrete sealing offerings on the market, featuring sodium silicates, lithium silicates, silane/siloxanes, acrylics, epoxies, and more. With the mission of being the ultimate marketplace for concrete sealers and maintenance products, KRETETEK has been slowly building up the quality and quantity of their offerings to give consumers a variety of choices suited to their myriad project needs.
KRETETEK's commitment to consumer and environmental safety led to the development of products with low VOC contents, reinforcing its mission to provide durable, cost-effective solutions to everyday concrete sealing needs. Most, if not all, of KRETETEK's products fully comply with the strict environmental regulations of states like New York and California. Furthermore, their products are safe for the consumer and contractor to apply, without the same amount of hazardous fumes and flammability that defines the products of competitors.
On the cutting edge of research and development, KRETETEK incorporates leading molecular nanotechnology and the latest advances in general concrete manufacturing to constantly improve their product line. KRETETEK recognizes that technological progress is crucial to success, devoting most of its resources to product research, development, and testing in order to continue growing. With the mission of expansion, KRETETEK hopes to always innovate and enhance their products to meet the ever-evolving needs of the consumer.
Owned and operated by a team of dedicated employees, KRETETEK delivers the most extensive technical and customer service in the industry. KRETETEK is manufactured and distributed entirely in the United States with employees constantly on call to help you find exactly what you need. If you prefer to research on your own, http://www.ghostshield.com offers a large number of helpful articles for you to determine what you need for your particular product. Our high-quality products and service-minded staff help ensure customer satisfaction and industry-leading concrete protection.
In a crowded industry KRETETEK stands out as a pioneer, an innovator, and a fully competent manufacturer of concrete sealing products designed specifically for the consumer. Our products offer thorough, long-lasting protection on the edge of the technological curve. With constant change and research, you can rest assured that the GHOSTSHIELD product line is the most modern and effective set of concrete sealing products on the market today, helping you protect your concrete investments at minimal cost. KRETETEK: Concrete has never looked so good.
To learn more about KRETETEK's products and mission, please visit http://www.ghostshield.com. For any questions, comments, or concerns, please email us at info(at)kretetek(dot)com or call us at 1 (855) 573-8383.