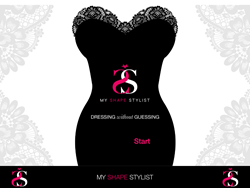 This app will revolutionise the way women shop!
Reading, Berkshire (PRWEB UK) 14 November 2013
Ever wished for a personal stylist to make clothes shopping easier? Well wish no more. It's now all in an app. Detailed clothes style advice based upon a woman's own body shape.
My Shape Stylist is an unbiased clothes styling app, for women who want to look great and feel fabulous. The app is accurate as it's based upon the user's own body shape and features.
BENEFITS

Shop with confidence, saving time and money
Know which styles suit and what to avoid
Always look great (and be confidence with it)
Dressing without Guessing enjoyed forever thereafter
Affordable, 24/7 styling advice, 'at the tap of a screen'
The app is not owned, developed or influenced by any clothing retailers, manufacturers or designers. Simply honest, clear advice from a subject matter expert with over 20 years experience of dressing women. Cristina Holm is also the only Image Stylist in the world that offers 3D body scanning technology as part of her services. Used to ensure the accuracy of this app.
Beautifully illustrated, the app is cleverly designed to show women what styles will complement their shape (and those to avoid) and help them shop much more easily, whether in a store or online. There are also YouTube videos to help navigate the app and a measurement guide too.
HOW THE APP WORKS
First the user needs to spend 10 minutes measuring themselves, with the help of a friend. A tape measure and full length mirror is also needed.
Then the user has immediate access to their body shape details and styling advice associated with their key features. The styling advice for TOPS is also absolutely free, so women can 'try before they buy' the other garment advice.
See existing Client Testimonials attached or on Cristina's Image Styling website for the impact women can expect.
The app is filled with illustrations, that ensure clear, concise advice. Functionality includes a My Likes section that can be used to help when out shopping and also to email measurements and preferences to family and friends.
The iPad works in both Landscape and Portrait and automatically synchronises with the iPhone too. Perfect for mobile shopping.
12 months in the making, this app will help women everywhere. It is accurate for all shapes and sizes. There are numerous development plans for the future, including working with global retailers.
QUOTES FROM CRISTINA
"It really is as simple as understanding your scale, body shape and key features, then dressing with styles that complement them. Then being disciplined to stick to your rules, without compromise!"
"Looking great has such a positive effect on a woman's feelings and confidence. The results are almost magical... that's why I adore what I do and why I created this app."
"I've realised what women want. I call it 'Dressing without Guessing'. So I created My Shape Stylist to do exactly that. I cannot help all women in person, however my app means I can help women everywhere. My unbiased advice can now be found at the tap of a screen. How great is that!"
END