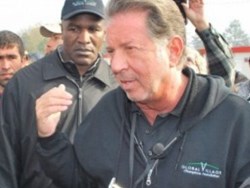 Yank Barry "I will personally try to stop your misery in the camps."
Bulgaria (PRWEB) November 14, 2013
U.S. boxing champion, global humanitarian Real Deal Evander Holyfield and Canadian billionaire Yank Barry took several Syrian refugees in Bulgarian slum camps into hotels.
Evander Holyfield, the new goodwill ambassador for the foundation of Global Village Champions founded by Yank Barry, started out in one of the poorest centers in Harmanli.
Evander Holyfield and Yank Barry, who is nominated to the Nobel Peace Prize for his services, arrived at the former barracks in the Southern Bulgarian town. "I will personally try to stop your misery in the camps" Yank Barry promised. As proof, Yank Barry will send some families to a hotel. The first of them is a Syrian family with 3 children, with a fourth one on the way.
They will be staying at a comfortable hotel in nearby Banya. This building has been recently renovated 19 rooms that could accommodate between 10 to 14 refugee families.
Evander Holyfield holds notable victories over fighters such as George Foreman, Larry Holmes, Riddick Bowe, Ray Mercer, Mike Tyson (x2), Michael Moorer, John Ruiz, Michael Dokes and Hasim Rahman. Holyfield is the only 5-time World Heavyweight Champion, winning the WBA, WBC, and IBF titles in 1990, the WBA and IBF titles in 1993 and the WBA title in 1996 and 2000.